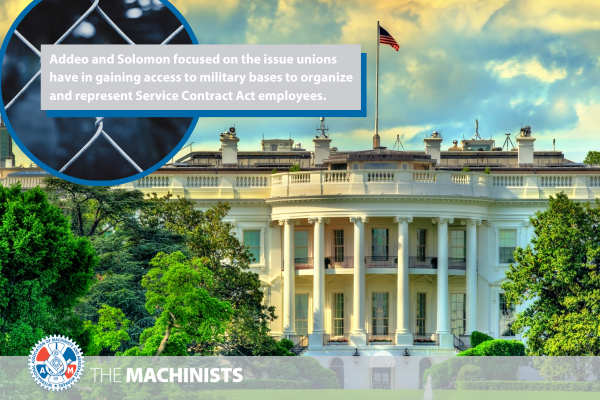 Federal agencies, like the Department of Labor and Office of Personnel management, have been implementing recommendations from the White House Task Force on Worker Organizing and Empowerment and have announced progress with results.
The AFL-CIO formed its White House Task Force on Worker Organizing and Empowerment Committee, pulling together labor union organizing and policy experts, including IAM Organizing Director Vinny Addeo with IAM Political and Legislative Director Hasan Solomon, to assist in thinking through issues for the Task Force to make recommendations for.
Addeo and Solomon focused on the issue unions have in gaining access to military bases to organize and represent Service Contract Act employees in their submission to the Task Force, which created a recommendation for it: 
Standardize Guidelines for Union Organizer Access to Military Bases and Installations Recommendation: Instruct the Department of Defense (DOD) to review existing guidance, consider developing consistent policies and best practices, and consider issuing standardized guidance across the Department to ensure union organizers can access bases and installations. The DOD should consider implementing standardized guidelines ensuring that union organizers can have access to employees – including employees of private-sector contractors – on its bases and installations in a manner that does not interfere with safety, security, order, or contract operations. DOD should also reiterate current federal policy protections for organizing activity related to union access on DOD property and highlight relatively recent processes and procedures that have improved and standardized the access process.
"The Task Force was effective; our issues were addressed," said Addeo. "So far we have seen positive results from the Task Force actions that were taken regarding access to military bases." 
The Biden administration in April 2021 established the White House Task Force on Worker Organizing and Empowerment chaired by Vice-President Kamala Harris and Vice-Chaired by Labor Secretary Marty Walsh.
The goal of the Task Force is to "remove barriers to worker organizing and position the federal government as a model employer," says multiple documents from the White House.
The Task Force submitted more than 70 recommendations to the President, all of which were approved by President Biden in February 2022.
Multiple Task Force recommendations focus on increasing visibility, support, awareness, and promotion of collective bargaining. The White House statement says that since agencies began working to better inform federal workers of their right to join a union, nearly 80,000 federal workers have become union members.
Read the White House's full update on implementing the Task Force's recommendations.
The post White House Task Force on Worker Organizing and Empowerment Sees Results in Union Membership and Approval appeared first on IAMAW.