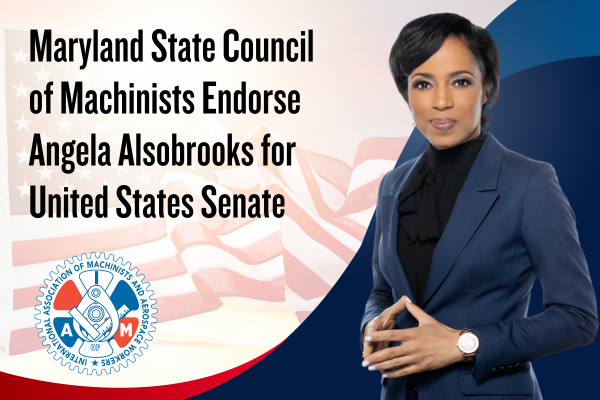 WASHINGTON, October 2, 2023– Today, the International Association of Machinists and Aerospace Workers (IAM) Maryland State Council of Machinists announced its endorsement of Prince George's County Executive Angela Alsobrooks in Maryland's open U.S. Senate race.
"Angela Alsobrooks stands as an unwavering champion for working people and their families," said IAM International President Robert Martinez Jr. "Her track record is a testament to her unyielding commitment to securing good jobs, fostering safe communities, ensuring affordable healthcare, and delivering quality education for all. We wholeheartedly and proudly endorse her for the United States Senate."
Alsobrooks serves as the current County Executive of Prince George's County, Maryland, and has held various roles in county government before making history as the youngest and first woman elected Prince George's County State's Attorney. As County Executive, Alsobrooks has focused on creating jobs, improving schools, and reducing crime. She has also strongly advocated for working families and has fought to raise the minimum wage and expand access to affordable healthcare.
"We are thrilled to endorse Angela Alsobrooks for the U.S. Senate," said Maryland State Council of Machinists President Joseph "Rick" Compher. "She acknowledges our union's contributions and champions the tireless dedication of IAM members who are the backbone of our state. Our union deserves nothing less than a fierce advocate in the United States Senate, and Angela Alsobrooks embodies that champion, ready to fiercely and tirelessly fight for our interests."
IAM members will work on educating our members about what's at stake in this election. 
"I am honored to receive the endorsement and support of the Maryland/DC State Council of Machinists," said Alsobrooks. "This organization works hard to protect workers and their families, ensuring that each of its employees has the right to earn a good salary, with benefits that support themselves and their loved ones. As U.S. Senator, I fight hard for workers' rights and for Maryland families."
The International Association of Machinists and Aerospace Workers (IAM) is one of North America's largest and most diverse industrial trade unions, representing approximately 600,000 active and retired members in the aerospace, defense, airlines, railroad, transit, healthcare, automotive, and other industries. 
The post Maryland State Council of Machinists Endorse Angela Alsobrooks for United States Senate appeared first on IAMAW.