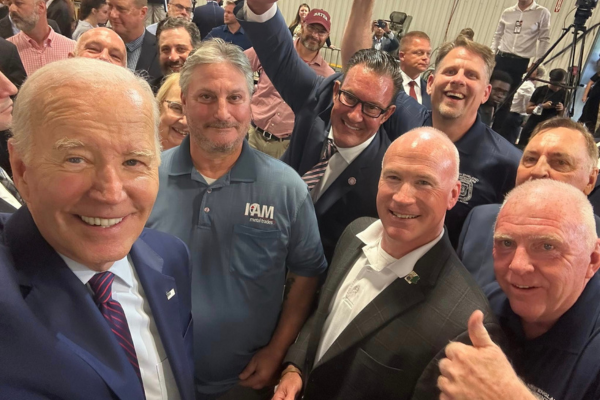 Five IAM members recently had the chance to meet President Biden during his visit to Maine. The president was in Auburn, Maine, to deliver economic remarks and sign an "Invent in Here, Make it Here" executive order on federal research and development supporting domestic manufacturing.
Maine State Council of Machinists President Mark Vigliotta was among the IAM members present.
"It was exciting, and I really appreciate the opportunity," said Vigliotta, who said the president thanked the IAM for its continued support. "Thank you so much to Eastern Territory General Vice President David Sullivan and Political and Legislative Director Hasan Solomon for giving me the opportunity to meet President Biden."
Vigliotta was able to alert President Biden to issues faced by IAM Local 207 lobstermen, including misguided attempts to restrict lobstering with offshore wind development based on faulty science regarding right whales. 
First Lady Jill Biden had previously spoken with IAM Local 207 members about lobstering issues during a visit in 2020.
"President Biden's 'Invent in Here, Make it Here' executive order is a significant step forward in ensuring that the United States remains a leader in innovation and manufacturing," said IAM International President Robert Martinez Jr. "This will help to create the conditions necessary for American workers to continue to invent and innovate. It will also help ensure American workers make these cutting-edge products in America."
Joining Vigliotta in the IAM's contingent was Local 207 Organizer Virginia Olsen, Local S7 Vice President Anthony Leeman, Local S6 Communicator Devin Ragnar, and Local S6 Legislative Committee Member Scott McDonald.
The post Maine IAM Members Meet President Biden at Economic Address appeared first on IAMAW.