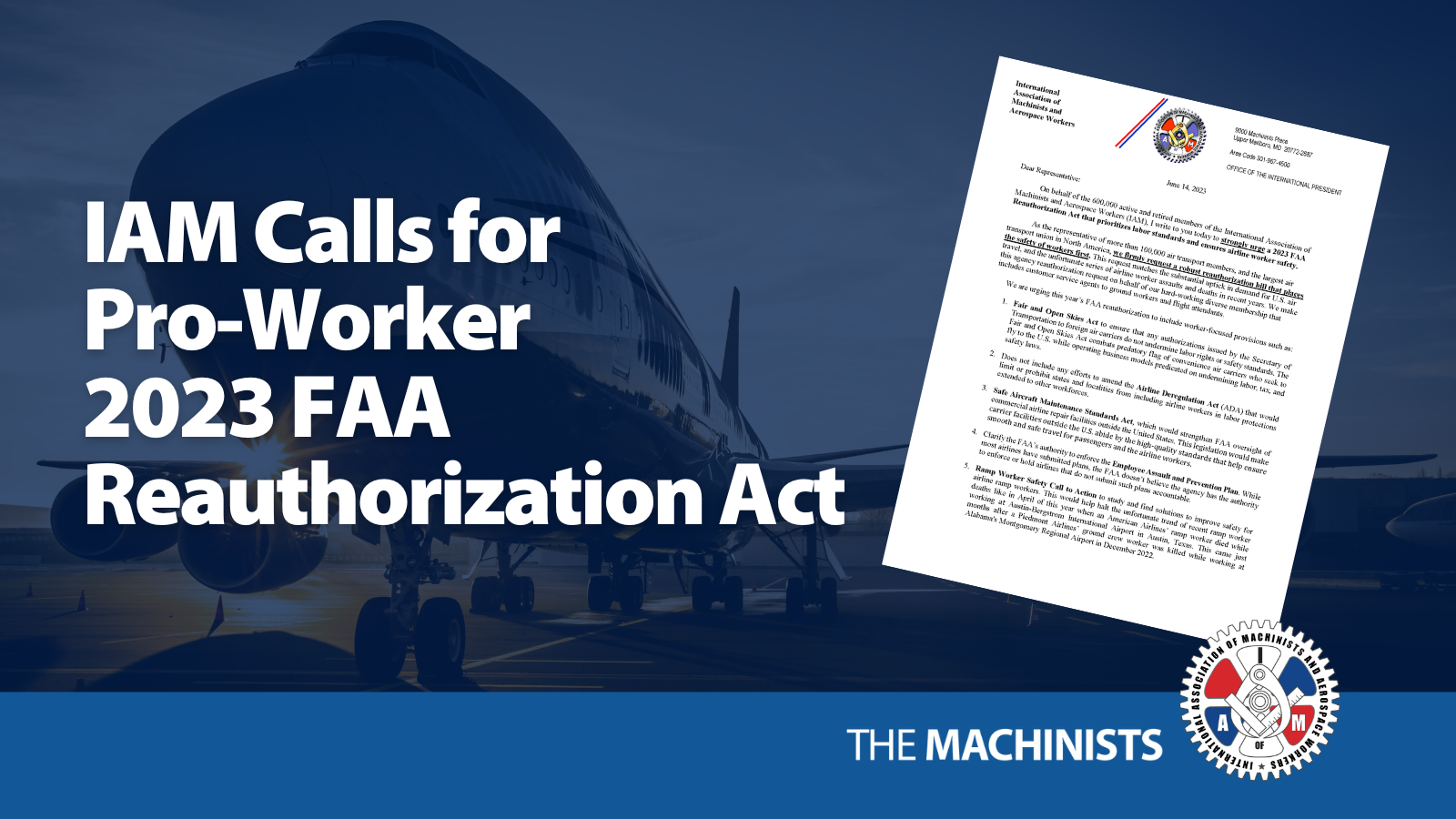 IAM International President Robert Martinez, Jr. sent a letter to members of Congress urging them to pass a 2023 Federal Aviation Administration (FAA) Reauthorization Act that prioritizes strong labor standards and ensures airline worker safety.
A successful worker-focused FAA reauthorization bill must include provisions such as:
Fair and Open Skies Act to ensure that any authorizations issued by the Secretary of Transportation to foreign air carriers do not undermine labor rights or safety standards. 

Does not include any measures to amend the Airline Deregulation Act (ADA) that would limit or prohibit states and localities from including airline workers in labor protections extended to other workforces.
Safe Aircraft Maintenance Standards Act, which would strengthen FAA oversight of commercial airline repair facilities outside the United States.
Clarify the FAA's authority to enforce the Employee Assault and Prevention Plan, which would hold airlines accountable if they fail to submit those plans.
Ramp Worker Safety Call to Action to study and find solutions to improve safety for airline ramp workers.
Protection from Abusive Passengers Act, which would direct the Transportation Security Administration (TSA) to create and manage a program that bars passengers who are fined or convicted of serious physical violence against airline personnel from flying.
Cabin Air Safety Act, which would protect airline pilots, flight attendants, and passengers from toxic cabin air. 
"The time is now for Congress to draft and pass an FAA reauthorization package that acknowledges today's growing demand to protect workers from physical harm and ensure labor standards are a priority," said Martinez in the letter. 
The IAM's reasonable demands come as a response to the latest increases of U.S. air travel, and the unfortunate series of airline worker assaults and deaths in recent years. 
The IAM will continue to advocate for a strong and enforceable pro-workers FAA bill to protect the interests of its more than 100,000 IAM air transport members and the communities they serve.
Click here to read the full letter.
The post IAM Urges Members of Congress for FAA Reauthorization that Prioritizes Worker Safety, Labor Standards appeared first on IAMAW.