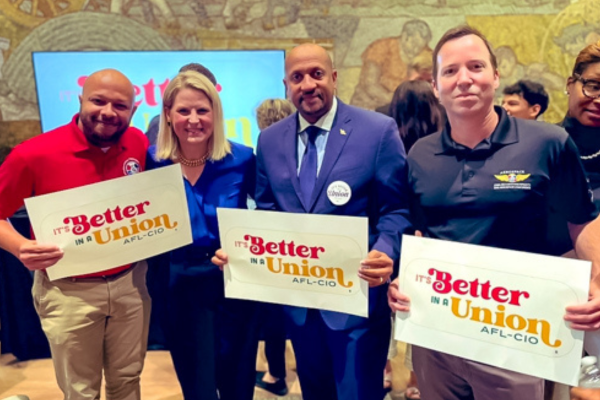 The IAM Legislative and Political Department helped the AFL-CIO kick off their inaugural Labor Day event featuring the State of the Unions address. 
The theme for this Labor Day is "why it's better in a union." This event began the campaign to remind workers everywhere about the power of unions.
Joining a union means having the power of unity on your side! Stronger together, we can negotiate for fair wages, better benefits, and improved working conditions. Don't go it alone – let's build a better workplace! #ItsBetterInAUnion #LaborDay

— Machinists Union (@MachinistsUnion) August 29, 2023
AFL-CIO President Liz Shuler and Secretary-Treasurer Fred Redmond delivered an inaugural State of the Unions address where they released new polling which underscores the American people's support of unions—especially that of young workers—and their view of unions as critical to growing the middle class and providing opportunities for working people to thrive. Additionally, both officers stressed that with this unprecedented level of support, working people in unions are prepared to organize like never before, hold big corporations accountable and restore America's promise for all.
"88% of young Americans support #Unions!" @LizShuler #ItsBetterInAUnion #LaborDay #UnionStrong pic.twitter.com/b2ME3DXWg3

— Machinists Union (@MachinistsUnion) August 29, 2023
"The idea of a union may sound complicated, but in reality, unions are just a group of people coming together. They are about each of us becoming the most powerful version of ourselves that we possibly can," said Shuler. "And there is nothing better than finding that power alongside the people we work with and being a part of something bigger than ourselves. That's all a union is. It's that simple. People in this country have been searching for their power for a long time now, young people especially."
Our Legislative team fights hard on Capitol Hill every day for our members.

Our team was glad to help @LizShuler and the @AFLCIO kick off the inaugural #LaborDay event. #ItsBetterInAUnion pic.twitter.com/P6asgXIcJJ

— Machinists Union (@MachinistsUnion) August 29, 2023
The post IAM Attends AFL-CIO Inaugural State of the Unions Labor Day Kick-Off appeared first on IAMAW.