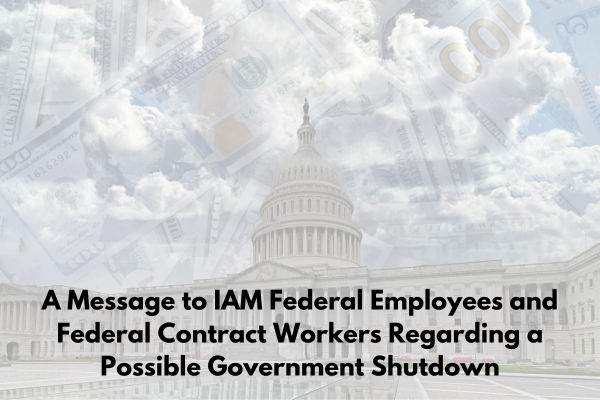 Dear IAM Family,
The IAM has been closely following the increasing likelihood of a government shutdown beginning Friday, Oct. 1, 2023, which would affect tens of thousands of IAM federal employees and federal contract workers, as well as countless others. Unfortunately, a faction of right-wing extremists in Congress are again demanding draconian spending cuts and a variety of poison pill policy riders, and threatening to shut down the government if they don't get their way.
The IAM and the National Federation of Federal Employees (NFFE-IAM) have been in consistent contact with congressional leadership urging Congress to quickly pass a Continuing Resolution to avoid a shutdown. We have been reminding them that many federal employees and federal contract workers live paycheck to paycheck and that a shutdown for any length of time is devasting to our members and their families.
TAKE ACTION: Send an online message to your lawmakers and urge them to fund the government now.
As a reminder, the IAM and NFFE-IAM worked hard to champion the successful passage of the 2019 Government Employee Fair Treatment Act, which ensures that all furloughed federal employees during a funding lapse receive their pay retroactively upon the government reopening. This law was a great victory, but does little to bring financial relief to workers during a shutdown.
Government shutdowns are even more destructive for our federal contract worker membership, who work alongside federal employees and perform equally essential work for our nation and often do not get any backpay at all. An IAM local lodge president recently wrote an op-ed on the profound impact that government shutdowns have on federal contract workers.
As a further reminder, the IAM worked with allies in Congress to push for the passage of the Fairness for Federal Contractors Act, which would have provided some level of lost wages to federal contract workers. Unfortunately, partisan gridlock prevented the legislation from passing. The IAM is working with allies in Congress to renew this push, should a government shutdown occur.
In addition to preparing personal finances to cover bills and other expenses during a shutdown, the IAM and NFFE-IAM recommend the following steps to stay safe at work and stay in touch if forced into a furlough:
Report to work as usual unless your agency or employer informs you in writing that you are officially furloughed. Otherwise, you risk an unexcused absence if you are not furloughed.
Sign up to receive emails using your personal email from the IAM here and NFFE-IAM here.
Additional resources from the U.S. Office of Personnel Management: Unemployment Insurance Q&A, Shutdown Guide, OPM 2019 Shutdown Guidance, Shutdown FAQ. 
The post A Message to IAM Federal Employees and Federal Contract Workers Regarding a Possible Government Shutdown appeared first on IAMAW.