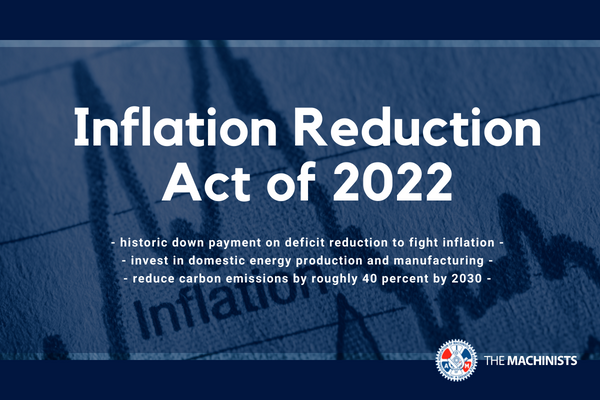 Machinists Union Pledges Support for Inflation Reduction Act: Robert Martinez Jr., International President of the 600,000-member International Association of Machinists and Aerospace Workers (IAM), released the following statement:
"The Machinists Unions applauds the authors of the Inflation Reduction Act of 2022 for drafting this vitally important legislation which will help fight inflation, lower costs for America's working families, create millions of good-paying manufacturing and construction jobs in the clean energy sector, paving the way for a clean energy future, and add fairness to our tax code by ensuring that the extremely wealthy and large corporations pay their fair share of taxes.  
"The Inflation Reduction Act will make historic investments in clean energy manufacturing, production, and deployment. The tax credits proposed in the bill include labor protections that strengthen and enforce prevailing wage requirements, apprenticeship programs and Buy American domestic content standards, ensuring these investments will create high-quality jobs here at home. The healthcare provisions included in this legislation will reduce costs for working families and retirees. 
"Today, on behalf of our 600,000 members, the Machinists Union sent an urgent letter to all U.S. Senators urging them to vote 'yes' to pass the Inflation Reduction Act of 2022. We must pass the Inflation Reduction Act to create high-quality jobs and boost domestic manufacturing."
https://i1.createsend1.com/ei/d/56/FE0/AC0/232817/csfinal/IAMFightingtoProtectLaborStandardsintheAirlineIndu-990000079e04513c.png
IAM Fighting to Protect Labor Standards in the Airline Industry: The Machinists Union recently signed on to a letter with other transportation labor unions urging the House Rules Committee Chairman James P. McGovern (D-MA) and Ranking Member Tom Cole (R-OK) to support a bipartisan amendment to H.R. 8294, legislation that provides funding for our transportation systems. The amendment would prevent predatory flag-of-convenience airlines that avoid collective bargaining rights, safety regulation, and high-road employment standards from operating in the United States. Flag of convenience carriers are foreign air carriers established in a country other than the home country of the majority owner. This is done to avoid regulations of the home country, which undermines labor standards in the industry and in the countries where the flag of convenience carrier operates.
"The U.S. aviation industry has flourished under the Open Skies model because it drove employment and growth through fair and equitable market opportunities for nation states, carriers, and workers,"reads the letter. "Flags of convenience by their nature fly in the face of fair competition and a rules based aviation trade regime. By using its authority over executive branch spending, Congress can restore integrity and balance to international aviation."
The Machinist Union has been a fierce advocate for protecting air travelers and workers in the airline industry from foreign carriers undercutting wages and safety standards.
NFFE-IAM Pens Letter to Agency Leaders on Fixing Forest Service Housing Crisis: Last week, the National Federation of Federal Employees (NFFE-IAM) sent a letter to USDA Secretary Tom Vilsack, USFS Chief Randy Moore, and Undersecretary Homer Wilkes outlining recommendations to permanently fix the housing situation for Forest Service employees. NFFE-IAM gathered data on specific housing issues from its members working for the Forest Service, as well as solutions that employees recommended.
There are several changes that the Forest Service can implement immediately to improve living conditions in the short term that are identified in the letter, including expediting repairs for government housing, adding simple amenities and new furnishings, waiving rent payments for housing that is below living standards, establishing housing stipends, purchasing campers, and building new housing.
In the longer term, the letter suggests making permanent, adequate, and affordable government housing available for all Forest Service employees, including space for workers' families. Further, the letter recommends standardizing housing requirements so that all housing has proper amenities, furniture, Wi-Fi, heating, and air conditioning, allowing for safety, privacy, and respect for workers.
"Fixing the housing problems in the Forest Service will require allocation of additional financial resources, however, this is necessary for the agency to attract and retain the workforce it needs to accomplish its critical mission," continued President Erwin. "The current state of housing represents a certain degree of neglect via programmatic funding to maintain housing conditions and adjust for modern life, such as access to electronic communications, or in the interests of family responsibilities to prevent firefighters from choosing between a career or a family."
100+ Civil Society Groups Ask White House for Transparency in IPEF Deal: Ahead of today's high-level meeting between the U.S. and 13 Indo-Pacific nations, more than 100 civil society organizations urged the Biden administration to increase transparency and public participation in the Indo-Pacific Economic Framework (IPEF) as talks heat up. 
IPEF is expected to be the most consequential trade initiative of the Biden administration and is being proposed at a time when voters are increasingly skeptical of trade deals. The organizations  – representing a broad swath of labor, environmental, human rights, faith, family farm, and consumer organizations – warned the deal could be viewed in the same light as the unpopular Trans-Pacific Partnership (TPP) if it is drafted in a manner that bars the public from reviewing negotiating texts, while corporate advisors maintain access.
"The IAM will continue to fight for a fair trade policy that puts workers first," said IAM International President Robert Martinez Jr. "IAM members have felt the hardships from trade policies that give corporations the upper hand while they offshore our jobs. "The IPEF needs to include binding and enforceable labor and environmental standards. We have an opportunity to create a trading strategy that builds upon the U.S. labor and environmental laws. Now is not the time to turn our back on our nation's workers."   
Signers of the letter include the American Federation of Teachers, Amnesty International USA, Citizens Trade Campaign, Communications Workers of America, Government Accountability Project, Greenpeace USA, International Association of Machinists and Aerospace Workers, International Brotherhood of Teamsters, National Family Farm Coalition, National Organization for Women, Partners In Health, Public Citizen, Rethink Trade, Sierra Club, Trade Justice Education Fund, United Steelworkers and many others. 
The groups urged the administration to replace the corporate advisory system with an on-the-record public process, including public hearings, to formulate U.S. positions and obtain comments on the draft and final U.S. text proposals, as well as consult and engage with Congress throughout the process.
"One of the fundamental reasons why the TPP became so unpopular was that it was negotiated under the influence of hundreds of corporate advisors while the public and Congress were locked out," the letter said. "Terms needed for the deal to benefit most Americans were traded away in favor of special protections for the corporate interests that had access." 
"We share your goal of creating a new model for U.S. trade policy that prioritizes the interests of working people, communities of color, the environment, consumers, and family farmers instead of just big corporations," the letter said. "A transparent and participatory negotiating process is critical to ensuring the best possible outcomes from IPEF or any other future trade negotiations."
A full copy of the letter and its signers is available at: bit.ly/IPEFTransparency
NFFE-IAM Advocacy Results in House Passing the First Responder FAIR Retire Act 417 to 0: Last week, the U.S. House of Representatives passed the First Responder Fair Return for Employees on Their Initial Retirement Earned Act (RETIRE) (H.R. 521) 417 to 0 in a bipartisan display of support for injured federal first responders. The bill requires agencies to place injured first responders who return to work with injuries into "equivalent positions" as they held before, thereby protecting their employment and accelerated retirement status. In addition, the act prevents first responders from losing thousands of dollars from forfeited retirement contributions that were paid by the employee at a higher than the standard rate under their "6(c)" retirement system.
"NFFE-IAM has been advocating for this fix to 6(c) retirement for years now," said NFFE-IAM Federal District 1 National President Randy Erwin. "We are exceedingly pleased that Congress acted to preserve the employment and retirement classifications for injured first responders. I appreciate the leadership of Representative Connolly and Chairwoman Maloney for their leadership on the bill and for calling it to the House Floor under a suspension of the rules for quick passage. I urge the Senate to pass the accompanying bill and put it on President Biden's desk as soon as possible."
Reps. Norcross, Chu, and 101 Other Members of Congress Introduce Legislation to End Corporate Handouts for Union Busting: Today, U.S. Representatives Donald Norcross (D-NJ-01) and Judy Chu (D-CA-27) were joined by 101 of their colleagues to introduce legislation that would deny American taxpayer subsidies for corporate activity intended to discourage workers from exercising their legally protected right to unionize.
"American taxpayers shouldn't be footing the bill for corporations engaged in anti-worker activity," said Congressman Norcross. "We need to level the playing field for workers and end handouts for union-busting campaigns. It's not fair that workers pay taxes on their hard-earned paychecks while their bosses save money crushing worker organizing. Why does our tax code favor employers at the expense of the American worker? It's time to bring fairness to the tax code and end tax breaks for union busting."
"The right to organize is not just protected by law, it is the official policy of the U.S. government to encourage workers to exercise this right," said Congresswoman Chu. "However, our tax code provides companies lucrative tax breaks for the hundreds of millions of dollars they spend yearly to upend pro-union action and organizing. The No Tax Breaks for Union Busting Act would not only end taxpayer subsidies for these anti-union efforts, but would give workers the fair shot they deserve to form a union."
The National Labor Relations Act (NLRA) of 1935 makes it the official policy of the United States government to encourage collective bargaining and protect workers' freedom of association.
However, as workers around the country organize their workplaces at historic levels – asking for fair pay, safer work conditions, and better benefits – employers are spending an estimated $340 million a year on union-busting campaigns, sometimes even using tactics that violate the NLRA. These expenses are currently tax deductible and regularly written off by bosses as everyday business expenses.
IAM Opposes Legislation to Increase Pilot Retirement Age: The IAM recently joined other unions representing professional airline pilots and thousands of aviation workers in urging members of the U.S. Senate to oppose any legislation that increases the pilot retirement age.
In 2007, the Federal Aviation Administration (FAA), under the direction of Congress, implemented the Fair Treatment for Experienced Pilots Act (P.L. 110-135), which increased the pilot retirement age from 60 to 65. This is aligned with the International Civil Aviation Organization (ICAO), the international body governing civil aviation, which currently precludes airline pilots from operating internationally starting at age 65. There is currently no discussion for the ICAO to change the standard and increase the pilot retirement age beyond 65.
"To be clear, the discussions related to increasing the pilot retirement age are intended to be a quick fix to the false narrative of inadequate pilot supply and another excuse for some airlines to water down pilot training requirements and flight experience time," reads the letter. "However, the real problem is airline management's poor planning for a pandemic recovery. Airlines furloughed, displaced, and moved pilots out of their seats and off of their aircraft. As a result, airlines are now forced to needlessly retrain pilots, resulting in a training backlog of their own making." 
The group also pointed out many unintended consequences of increasing the pilot retirement age.
The following unions signed on to the letter: International Association of Machinists and Aerospace Workers, Air Line Pilots Association. Association of Flight Attendants, CWA, National Air Traffic Controllers Association, Professional Aviation Safety Specialists, Transport Workers Union of America, and the Transportation Trades Department, AFL-CIO.
NFFE Applauds Passage of Toxic Exposure Legislation Delivering Vital Resources to the VA and Expanding Care for Veterans: Washington, D.C. – Today, the National Federation of Federal Employees (NFFE-IAM) praises the U.S. Senate's passage of the Honoring Our Promise to Address Comprehensive Toxins (PACT) Act. Once signed into law by President Biden, the legislation will deliver high-quality Veterans Health Administration (VA) care and benefits to an additional 3.5 million veterans affected by toxic burn pits.
 "As the most comprehensive toxic exposure legislation passed to date, this package ensures the federal government fulfills its duty to care for our military veterans," said NFFE National President Randy Erwin. "Millions of veterans and their families will now be able to access the incredible health care services provided by the VA, a benefit our heroes deserve for their sacrifices in protecting America." 
The PACT Act entitles veterans who served near burn pits to ten years of enhanced health care coverage through the VA after returning from military service. The legislation also directs the VA to presume that certain respiratory illnesses and cancers resulted from burn pit exposure, permitting veterans to receive disability payments for their injuries and illnesses. 
Within the VA, PACT Act facilitates the establishment of 31 new health care clinics and expands training for personnel on toxic exposure in veterans. Further, the law promotes hiring and retention in rural areas and among critical VA positions, including incentives like raising the pay cap for certain roles and assisting with student loan repayments up to $40,000 per year and $100,000 per employee. NFFE will monitor the use and effectiveness of a questionable provision to direct hire college graduates and post-secondary students into the competitive service at or below the GS-11 level. 
"This legislation is a tremendous achievement for generations of veterans who have been exposed to hazardous chemicals," continued Erwin. "VA doctors and nurses across the country will now have the resources to provide world-class health care to millions of additional veterans. Thank you to the House and Senate Veterans Affairs Committees for their leadership and commitment to passing this landmark legislation. NFFE looks forward to working with the Committees to ensure our veterans always receive the care they deserve for their service to our country."    
Statement from TCU President Artie Maratea on PEB 250: The hearings for PEB 250 wrapped up yesterday and we expect to receive the PEB recommendation in the coming weeks.
In my previous update on Sunday I shared a link to both the Organization and Carrier proposals that were being presented to the PEB.
The Unions, together with our economist, attorneys  and other expert witnesses laid out what I believe is a strong case explaining why our proposal is the most reasonable.   Our proposal provides for real wage growth over the term of the agreement and seeks to hold the line on healthcare so that our wage increases are not offset by increasing healthcare cost.
You will probably hear some discussion on property or on social media concerning why the wage increases in the Union proposal at the PEB were less than what was proposed previously.   It is important to remember that a PEB is not a time for bargaining.  The real time for bargaining is prior to the PEB including in mediation.  Unfortunately, the Carriers were never willing to bargain with us.  They were only willing to demand major concessions in exchange for minimum wage increases.   In fact, their proposal at the PEB offered a mere 10.6% net wage increase over the five year term after their proposed healthcare changes.  
The PEB hearing is to consider the parties best offers and will make recommendations concerning which is most reasonable.   That said, the Unions rely on our economist and other expert witnesses who must be able to testify and offer proof in support of our proposal.  
I am proud of the work our team did and am hopeful the PEB will issue a report that will provide the framework for us to reach a voluntary agreement.  As soon as I know more I will update you.
I also want to thank SMART-TD (UTU) President Jeremy Ferguson, in his testimony before PEB 250 President Ferguson pointed out the struggles railroad workers endured throughout the pandemic, specifically acknowledging the 102 TCU members that passed away due to COVID-19. Thank You Jeremy!
Fraternally,
Artie
Rep. Larson Leads Bipartisan Letter in Support of IAM-Built F135 Engine: Rep. John B. Larson (CT-01) led a bipartisan letter with 35 of his colleagues in support of the F135 engine. Addressed to Under Secretary of Defense for Acquisition and Sustainment William LaPlante, the letter opposes the Air Force's plan to pursue the risky Advanced Engine Technology Program (AETP) engine as a replacement for the existing F135 engine, which is the safest and most capable fighter engine ever produced. The members' letter expresses their concerns the AETP engine is expensive, reduces commonality between participating military services, and is risky to place in a single-engine fighter.  
The Department of Defense awarded a contract to Lockheed Martin to develop and build the Joint Strike Fighter (JSF) powered by the Pratt and Whitney F135 engine over 20 years ago.
"The F135 has outperformed its original specifications, including bleed air draw and time on wing, enabling it to support three major airframe and payload upgrades without engine modernization," wrote the members. "At the same time, the average engine cost has been reduced by more than 50% to date. Meanwhile, the U.S. Services have spent over $7 billion upgrading the airframe and payloads. The current engine can support the upcoming Block 4 air vehicle and payload upgrades, however, there will be an impact to engine life and increased sustainment costs as a result. 
"On behalf of the IAM, I want to thank Rep. Larson and the rest of his colleagues for supporting our members at Pratt & Whitney," said IAM International President Robert Martinez Jr. "IAM members working at Pratt and Whitney are some of the highest skilled in the country. Now is not the time to make major changes to our nation's F-35 program. Any changes will have a major impact on our economic and national security."
The letter is also signed by Representatives Sanford Bishop (GA-02), G. K. Butterfield (NC-01),  John Carter (TX-31), Troy Carter (LA-02), Sheila Cherfilus-McCormick (FL-20),  David Cicilline (RI-01), Tom Cole (OK-04), Joe Courtney (CT-02),  Val Demings (FL-10), Mario Diaz-Balart (FL-25), Mike Doyle (PA-18), Dwight Evans (PA-03), Pat Fallon (TX-04),  Brian Fitzpatrick (PA-01), Mike Garcia (CA-25), Jared Golden (ME-02),  Jenniffer González-Colón, Jahana Hayes (CT-05), James Himes (CT-04), Sara Jacobs (CA-53),  Mike Johnson (LA-04), Mike Levin (CA-49), Carolyn Maloney (NY-12),  Brian Mast (FL-18), Stephanie Murphy (FL-07), Richard Neal (MA-02), Bill Pascrell (NJ-09),  Chellie Pingree (ME-01),  Katie Porter (CA-45),  Bill Posey (FL-08),  Lucille Roybal-Allard (CA-40), Linda Sánchez (CA-38),  Lori Trahan (MA-03),  Debbie Wasserman Schultz (FL-23), Frederica Wilson (FL-24).
Click here to read the letter.
The post Subject: Inflation Reduction Act of 2022- IAM Fights to Protect Airline Labor Standards – NFFE Urges Agency Fix Housing Crisis appeared first on IAMAW.