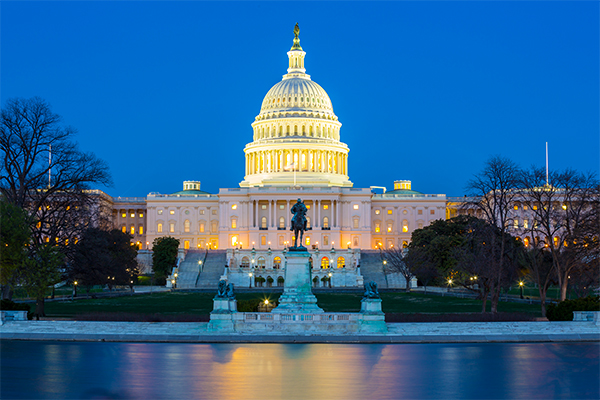 MACHINISTS UNION APPLAUDS SPEAKER PELOSI, HOUSE DEMOCRATS FOR MOVING PRO-WORKER, PRO-DEMOCRACY AGENDA FORWARD: IAM International President Robert Martinez Jr. released the following statement in full support of the Build Back Better Act and Bipartisan Infrastructure Bill:
"We applaud Speaker Pelosi and the House Democrats for helping move a historic pro-worker, pro-democracy agenda forward. Their courage will help uplift millions of working families through good union jobs that offer fair wages and benefits.
"We have an opportunity to strengthen our U.S. manufacturing sector and increase the amount of good-paying union jobs. Now we must roll up our sleeves and rebuild America's infrastructure and workforce across all industries."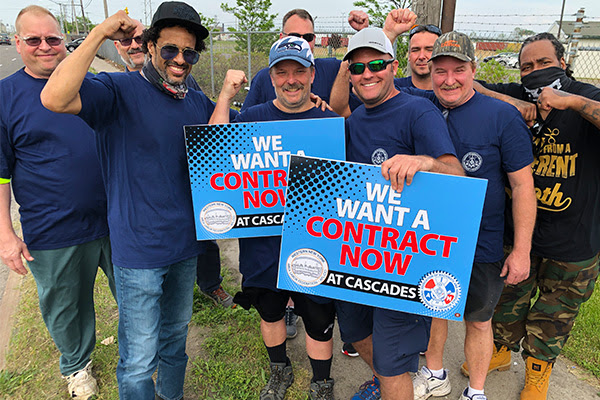 TELL CASCADES CONTAINERBOARD'S CEO THAT MACHINISTS UNION MEMBERS DESERVE A FIRST CONTRACT: More than 100 workers at Cascades Containerboard voted to join the Machinists Union in April 2019, and have been attempting to bargain for a fair contract for more than two years. Working conditions at the facility are key issues for Cascades employees.
CLICK HERE: Tell Cascades Containerboard's CEO that Machinists Union Members Deserve a First Contract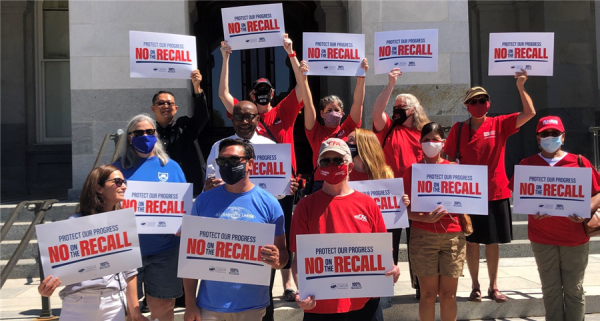 IAM WESTERN TERRITORY FIGHTING BACK AGAINST ATTACK ON WORKERS RIGHTS IN CALIFORNIA RECALL: IAM members in California are working hard to make sure IAM members participate in the September 14 recall election that will decide whether California Gov. Gavin Newsom will be removed from office.
The Fighting Machinists in the Western Territory are educating members on why they should oppose the recall effort led by millionaires who want to roll back the clock on California's worker protections. Many of these millionaires are funneling big money into a campaign to recall Gov. Gavin Newsom. 
The IAM Western Territory has led a robust program that includes phone banking, text messaging, robocalls and other member-to-member interactions. 
"I am extremely proud of the efforts from our staff and officers on the ground," said IAM Western Territory General Vice President Gary R. Allen. "This is a fight to protect our union contracts, wages and healthcare. We won't allow union-busting candidates to take control of the great state of California."
Learn more at noantiworkerrecall.com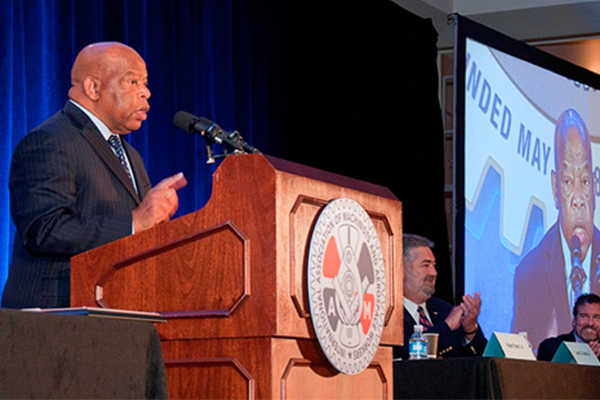 MACHINISTS APPLAUD PASSAGE OF THE JOHN R. LEWIS VOTING RIGHTS ACT: IAM International President Robert Martinez Jr. released the following statement applauding the passage of H.R. 4, the John R. Lewis Voting Rights Advancement Act of 2021 (VRAA).
"The IAM strongly believes that voting is a sacred pillar in our country's democracy. The John R. Lewis Voting Rights Act would help eliminate racial discrimination in our elections. The same groups fighting to suppress voting rights are also pushing some of the most anti-worker laws in our nation. We must stand in solidarity to fight back against any voter suppression attempts in our great country.
"Our union will continue to help ensure that all our members have full access to the ballot box. Everyone deserves the opportunity to participate in a process that legendary and late civil rights leader and Congressman John Lewis championed in the halls of Congress.
"In 2013, Congressman Lewis personally participated in the IAM's 125th birthday commemoration in Atlanta. Speaking to IAM members there, Lewis encouraged us to fight against voter suppression. 'We must not step backward to another dark period in our history. The vote is the most powerful nonviolent tool we have in a democratic society,' Lewis said.
"The IAM will work to carry on his legacy and fulfill the democratic promise of America."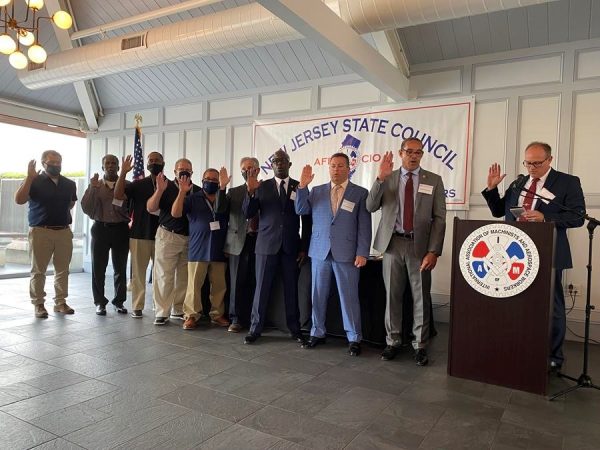 NJSCM HOLDS THEIR ANNUAL CONFERENCE: The New Jersey State Council of Machinists (NJSCM) held their annual conference last weekend in Jersey City, where they welcomed their new officers. The newly elected officers include: 
President: Cristino Vilorio, IAM Local 447 Business Representative 
Secretary-Treasurer: Michael Buonpastore, IAM Local 1776 Safety Representative
Legislative Director: Anthony Stevens, TCU/IAM Local 626 Chairman
Education Director: Ira Stern, IAM District 15 CREST Apprenticeship Program
Eastern Territory General Vice President Brian Bryant administered the oath of office to the new board and addressed the delegates. During his address to the delegates, Bryant spoke on the importance of passing the Protecting the Right to Organize (PRO) Act and electing the right people to office.
"We're going to need to keep electing pro-worker candidates up and down the ballot in New Jersey and across the country, said Bryant. "We need to elect more worker-friendly politicians here in New Jersey and across the country."
IAM International President Robert Martinez sent a letter to the delegates thanking the entire NJSCM delegation.
"I can't begin to describe how proud I am of the New Jersey State Council of Machinists," wrote Martinez. "You have shown tremendous solidarity and strength during some of the most difficult times in the 133-year history of our great union." 
During the conference, NJSCM announced their endorsement of Gov. Phil Murphy (D) for re-election.
NJSCM members commended Murphy's first-term accomplishments, including enacting paid sick leave, expanding paid family leave, enforcing strong workplace protections, and investing in workforce development and apprenticeship programs that have enriched New Jersey's talent pool.
"The Murphy-Oliver administration ushered a new era of progressive, pro-worker legislation in our state, making New Jersey a model for the nation on issues such as equal pay, earned sick leave and paid medical and family leave for all workers, tax fairness, making apprenticeship programs and community college more accessible and affordable, and protecting and expanding voting rights," said Ines Garcia-Keim, President of NJSCM. "Our state budgets have demonstrated their commitment to these values of fairness and compassion, and their steady leadership guided our state from being an epicenter for COVID-19 to a recovery that is rebuilding our economy and saving lives."
"Alongside the hardworking men and women of the NJSCM, we've reclaimed New Jersey's rightful place as a national leader in protecting the rights of workers and standing up for organized labor," said Murphy. "I'm honored to have earned NJSCM's endorsement and look forward to building on our partnership to keep the union doors open for future generations of New Jerseyans to walk through and into the middle class."
During the conference, Juan Negron, Special Assistant to the International President, was awarded the annual Frank Darcy Award for Leadership. Juan was praised for his steadfast dedication to IAM members and the Passaic County Central Labor Council, which he led as president for many years.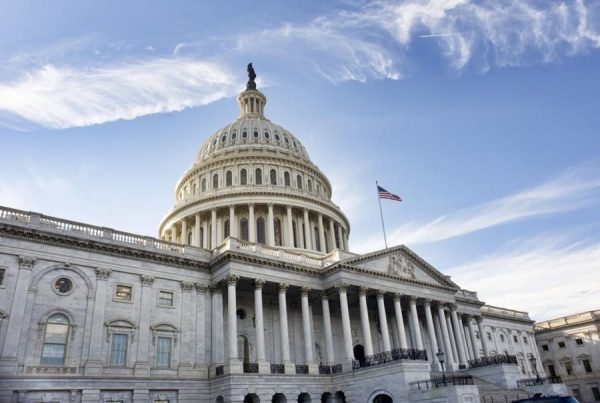 NFFE-IAM PRAISES BIDEN ADMINISTRATION ON FEDERAL SERVICE IMPASSES PANEL PICKS: This week, the Biden Administration announced the appointment of 10 new members to the Federal Service Impasses Panel (FSIP), a small agency that resolves disputes when an impasse is reached between unions and government agencies during labor-management negotiations. NFFE-IAM lobbied hard to get biased Trump appointees removed on Day One of the Biden White House, and praised the new picks announced this week. 
"NFFE is in strong support of President Biden's picks for the Federal Service Impasses Panel. During the previous administration, the anti-union, anti-employee attitude of the White House trickled down into the agency, resulting in opinions that overwhelmingly favored management," stated NFFE-IAM President Randy Erwin.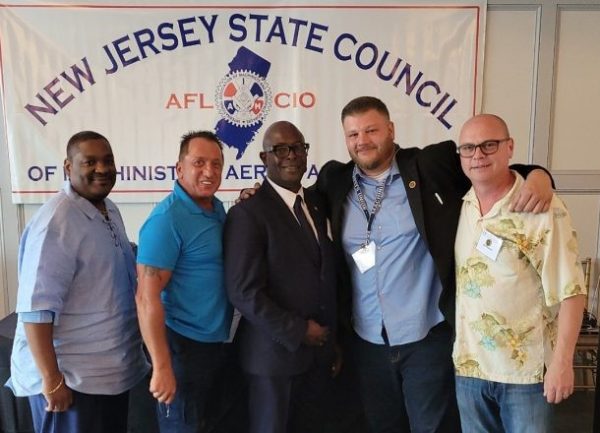 TCU/IAM UNIT 167 DIVISION CHAIR ANTHONY STEVENS ELECTED AS DIRECTOR OF THE NEW JERSEY STATE COUNCIL OF MACHINISTS LEGISLATIVE DIRECTOR: TCU/IAM Unit 167 Division Chair Anthony Stevens elected as Director of the Legislative Department of the New Jersey State Council of Machinists: Anthony Stevens, a 30-year TCU member and New Jersey Transit (NJT) worker, Division Chairman of Unit 167 and six-time selected Local Chairman of Lodge 626, was elected to the New Jersey State Council of Machinists (NJSCM) as Legislative Director.  
Pictured are Unit 167 Local Lodge Officers (Left to Right) Dean Harris, John Boe-Siclari, Anthony Stevens, Keith Gilbert, and Jeff Pacini. 
Anthony has tirelessly fought for the rights of his members on NJT for 18 years.
His institutional knowledge of NJT history, beginning when it formed from Conrail thru today, has made him the go-to guy for answers for TCU and the other Unions on the property.
He has been politically active for 30 years in New Jersey making the selection of him as Director of the Legislative Department of the NJSCM a perfect fit.
TCU/IAM President Artie Maratea said, "We are proud of Anthony for his dedication to our Union and our TCU/IAM brothers and sisters.
"We congratulate Brother Stevens in his new role. We know he will be a valuable asset to our union members in his role as Director of the Legislative Department of New Jersey State Council."
IAM HOSTS WOMEN OF LABOR: The Machinists Union's Political and Legislative Department is hard at work, making sure our members' concerns are a top priority. Part of the job includes networking and lobbying through groups like Women of Labor. "So, the Women of Labor is an organization of women who work on the Hill, they handle political and legislative issues and we meet monthly with the women of Congress," said Monica Lee Silbas, Asst. Director of the IAM Political and Legislative Department.
Members of Congress often walk over for meetings like this and special events, making themselves available for questions, concerns and feedback, whether it's in the IAM townhouse or outside on a summery day. "It's very important that we support and encourage our women lobbyists, as women we need our voices heard," said IAM General Secretary Treasurer Dora Cervantes. "As caregivers and mothers, we're passionate about things that affect and impact our families' everyday life as well, as in the workplace, so it's very important that we get out first and have our voices heard."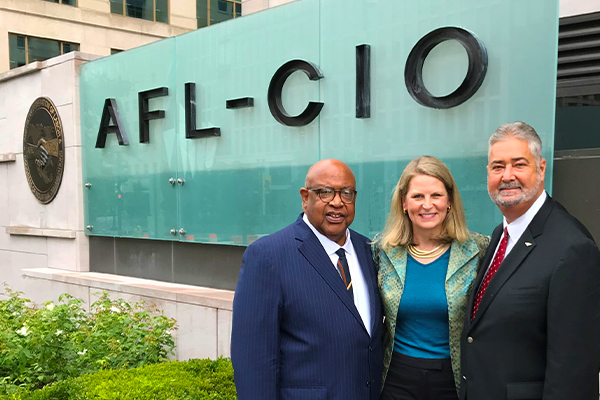 MACHINISTS UNION WELCOMES NEW AFL-CIO LEADERSHIP TEAM: As the IAM, the labor movement and working people around the globe continue to mourn the untimely passing of Richard Trumka, the Machinists Union looks forward to working with the most diverse leadership team in the history of the AFL-CIO.
On Friday, August 20, the AFL-CIO Executive Council elected Liz Shuler as the first woman to hold office in the history of the labor federation. Shuler, an IBEW member, had served as AFL-CIO Secretary-Treasurer since 2009, where she was the federation's chief financial officer and placed an emphasis on grassroots organizing and youth engagement.
"I am humbled, honored and ready to guide this federation forward," said Shuler. "I believe in my bones the labor movement is the single greatest organized force for progress. This is a moment for us to lead societal transformations—to leverage our power to bring women and people of color from the margins to the center—at work, in our unions and in our economy, and to be the center of gravity for incubating new ideas that will unleash unprecedented union growth." 
The Executive Council also elected United Steelworkers International (USW) Vice President Fred Redmond to succeed Shuler as secretary-treasurer, the first African American to hold the No. 2 office. At the USW, Redmond oversaw the Civil and Human Rights Department, as well as the union's shipbuilding, health care and public sector bargaining, and worked with USW allies across the country in responding to attacks on voting rights and in combating economic inequality.
"I could not be more excited to get to work with President Shuler so we can build on the labor movement's legacy of change, writing a new chapter that brings the promise of union membership to workers across this country," said Redmond. "This is the right team at the right time to help bring about the economic and social justice America is hungry for."
Tefere Gebre will continue as executive vice president, rounding out the most diverse team of officers ever to lead the AFL-CIO. 
The AFL-CIO is a federation of 56 unions and 12.5 million members across the United States, including the IAM.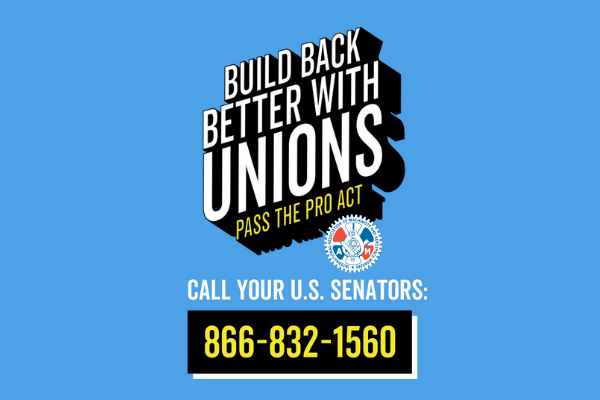 HELP PASS THE PROTECTING THE RIGHT TO ORGANIZE ACT: The Protecting the Right to Organize Act (PRO Act) or H.B. 842 that passed the House in early March, has gained momentum in the Senate after IAM Members along with working families across the U.S. flooded Senate offices with calls to support the hardworking men and women of this country by supporting the Protecting the Right to Organize Act
The Protecting the Right to Organize Act puts workers first and strengthens the rights of workers to join and participate in a labor union.   
The Protecting the Right to Organize Act will:
Create pathways for workers to form unions without fear of retribution
Repeal anti-worker "right-to-work" laws across the country
Hold corporations accountable by strengthening the National Labor Relations Board
Empower workers to exercise the freedom to organize and bargain
Ensure that workers can reach a first contract quickly after recognition
The Machinists Union has compiled a list of ways you can help pass the Protecting the Right to Organize Act: 
The Protecting the Right to Organize Act is the most comprehensive piece of labor legislation introduced since the Great Depression. At its core, it protects the rights of people who want to be part of a labor union and repeals laws that hurt workers.
The post Pro-Worker, Pro-Democracy Agenda Moving Forward – Attack On Workers Rights in California Recall – IAM Members at Cascades Demand a First Contract appeared first on IAMAW.