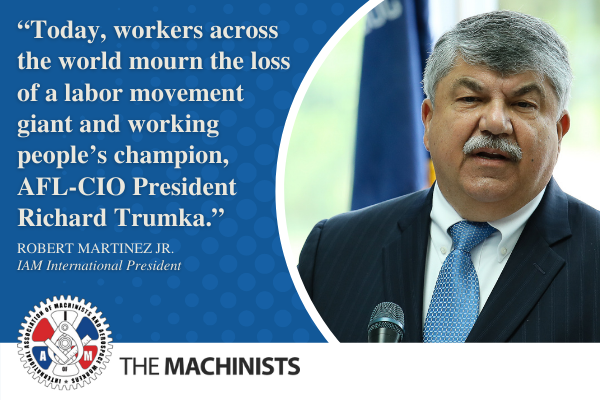 MACHINISTS UNION PAYS TRIBUTE TO WORKING FAMILIES HERO RICHARD TRUMKA:  National AFL-CIO President Richard L. Trumka passed away last week at the age of 72.
IAM International President Robert Martinez Jr. released the following statement on the passing of National AFL-CIO President Richard L. Trumka:
"Today, workers across the world mourn the loss of a labor movement giant and working people's champion, AFL-CIO President Richard Trumka. Rich revitalized the labor movement and stood toe-to-toe against any enemy standing in the way of dignity and justice on the job. He made life better for working people across our nation and the world. Our heart goes out to his family, friends, and the entire AFL-CIO.
"The IAM will forever be grateful to President Trumka for standing up for IAM members all across our different industries. Rich marched on our picket lines and helped lead efforts to improve the lives of working families. He was a fighter for change, and his work will never be forgotten. The IAM will honor Rich in a way he would want us to–fighting like hell to pass his legacy legislation, the Protecting the Right to Organize Act."
Richard L. Trumka was president of the 12.5 million-member AFL-CIO from 2009 until his death on August 5, 2021. 
READ: Richard Trumka, head of the AFL-CIO, dies at 72 The Washington Post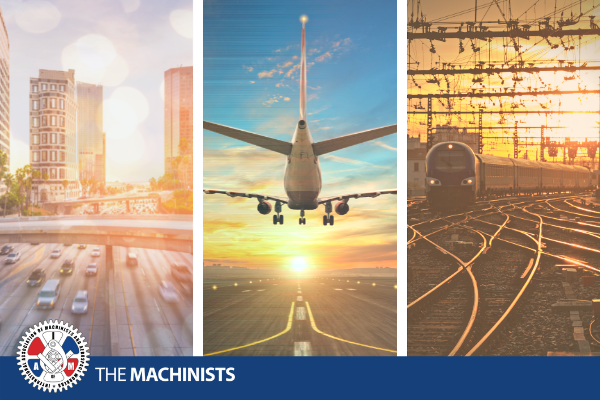 MACHINISTS APPLAUD BIPARTISAN INFRASTRUCTURE LEGISLATION: The Senate recently passed the massive piece of legislation that includes funding for rebuilding the nation's roads, airports, passenger and freight rail, and bridges and expanded broadband access.
The Machinists Union supports the trillion-dollar federal infrastructure bill that "will uplift millions of working families through good union jobs that offer decent wages and benefits," said IAM International President Robert Martinez Jr.  
Martinez applauded the federal bill and its provisions like Buy American rules intended to boost domestic manufacturing.
"This package will make an unprecedented federal investment in public transit and passenger rail since the creation of Amtrak. As the largest transportation union in North America, we applaud the investment in airline and rail infrastructure." Martinez said. "Our transportation sector will benefit through the modernization projects created through the robust funding provided in this infrastructure package. The Biden-Harris administration committed to building back better our vital manufacturing and transportation sectors during my meeting earlier this year at the White House."
The legislation now moves for House consideration as early as next month. The IAM looks forward to working with House Speaker Nancy Pelosi and other members of the chamber to get this historic investment passed.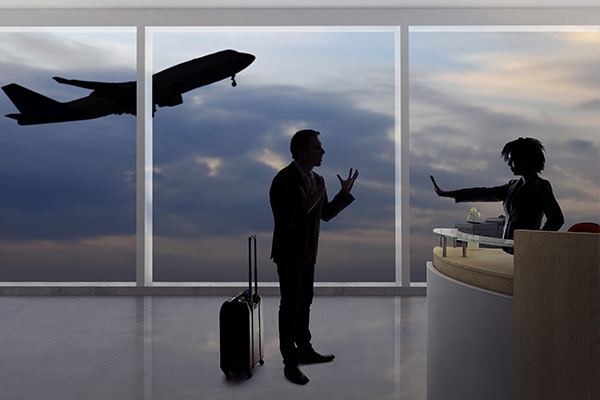 MACHINISTS SUPPORT CALLS TO FAA TO USE CIVIL ACTION, FINES TO ADDRESS UNRULY AIRLINE PASSENGERS: The IAM praised a recent letter the U.S. House Transportation and Infrastructure Chairman Peter DeFazio (D-OR) sent to the Federal Aviation Administration, urging the agency to take swift actions like civil enforcement and steep fines to help thwart the growing number of assaults on airline employees. 
"On top off being overworked, fatigued and under constant stress, our airline membership is being mentally and physically abused by unruly passengers, which adversely affects their health and safety," said Richard Johnsen, Chief of Staff to the International President. "We are calling on the airlines and FAA to address airline passenger assault as well as the understaffing issue. The IAM is willing to work with the airlines, FAA and Congress to address these very serious concerns."
The IAM Transportation Department includes more than 160,000 workers in the airline and rail industries. The IAM is the largest airline union in North America.
DeFazio's correspondence to the FAA referenced the agency's own data showing steep increases in air rage incidents subject to enforcement this year. There have been 628 such incidents in 2021 as of August 6, nearly twice the previous peak of 310 in 2004.
"The violent, disruptive behavior that we've seen on airplanes this year must not go unpunished," DeFazio wrote. "Recklessly refusing to wear a mask during the deadliest pandemic in a century is dangerous enough, but punching flight attendants, running for the cockpit door, assaulting other passengers, and the litany of other outrageous incidents reported in the press requires a strong federal response, and I want to ensure that the FAA has the legal tools and authorities necessary to put these incidents to a stop."
The IAM has been urging lawmakers and other federal officials to step up measures to protect the safety of airline workers in recent months. That includes Johnsen taking part in the Aviation Labor Recovery Roundtable call with FAA Administrator Steve Dickson and U.S. Transportation Department Deputy Secretary Polly Trottenberg.
Johnsen then urged participants on the call to share the union's urgency to assure airlines properly staff positions, adding that "airlines were granted billions of dollars in federal relief from this administration to address these problems, and they must act now."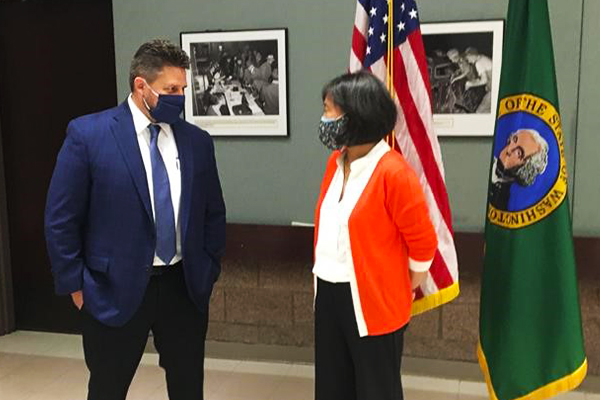 IAM DISTRICT 751 CALLS FOR ACTION ON CHINESE 737 MAX RECERTIFICATION, UNFAIR TRADE PRACTICES:  IAM District 751, which represents more than 26,000 aerospace workers at Boeing and its suppliers, is calling for action as China becomes a global competitor in the aerospace industry.
In a meeting with U.S. Trade Representative Katherine Tai hosted at its Seattle union hall, District 751 President Jon Holden called for immediate Chinese recertification of the IAM-built 737 Max and outlined concerns over China's growing aerospace footprint. Holden thanked Tai for focusing efforts on worker-centered trade and sounded the alarm on the transfer of U.S. technology and jobs to China, as well as unfair Chinese government subsidies to its aerospace industry.
Holden also raised concerns about worker and human rights in China.
"China's continued refusal to honor basic human rights, including those concerning forced labor, discrimination, child labor, the right to form and join a union and engage in collective bargaining, are moral issues," said Holden. "They are also economic issues, which drive standards down around the world. We see U.S. and European aerospace companies continuing to outsource work and build production plants in Mexico to take advantage of low wages and no workers' rights."
"Our members at IAM District 751 will benefit from President Holden's advocacy," said IAM Western Territory General Vice President Gary R. Allen. "We will fight for the immediate recertification of the 737 Max and to stop China's unfair trade practices that are causing harm to aerospace and manufacturing workers in the Puget Sound."
READ: USTR Tai, DelBene meet with labor on worker-centered trade The Stand  
Holden was joined at the meeting by IAM District 751 Chief of Staff Jason Chan, U.S. Rep. Suzan DelBene (D-WA), and other Washington state labor leaders.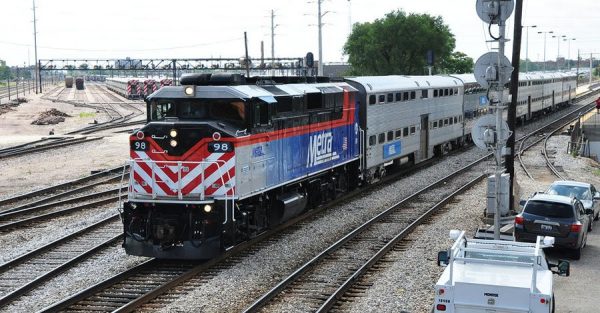 CHICAGOLAND REPS. GARCIA, NEWMAN CRITICIZE METRA BARGAINING STANCE: Rep. Chuy García (D-IL) and Rep. Marie Newman (D-IL) recently wrote a letter expressing concern at the state of contract negotiations between Metra and several labor unions. 
"We write to express concern at the state of contract negotiations between Metra and several labor unions, stated Reps. Garcia and Newman. "We understand Metra has an obligation to represent its interests in negotiations, but some of Metra's current negotiating stances are troublesome and unproductive," the letter states. "We hope that an agreement can be found that honors our frontline heroes by providing them with fair contracts and stand ready to assist Metra in achieving that goal."
Click here to read the full letter
PENNSYLVANIA LOCAL 1717 PRESIDENT MEETS PRESIDENT BIDEN AT BUY AMERICAN SPEECH: President Biden made a stop at the Mack Truck plant in Macungie, PA, recently to talk about his plan to strengthen Buy American rules.
During the speech, Biden told the audience of about 130 people that he would be making some of the biggest enforcement changes the Buy American plan had ever seen. No longer would it be good enough for the federal government to spend tax dollars on products made in the U.S.A. built with just 55% of American components. By 2029, he wanted that number ramped up to 75%, with companies having to prove that they have met that threshold. Right now, the government spends about $300 billion a year to buy these products.
 
READ: On 'Buy American' Visit, Biden Spotlights PA Manufacturing
IAM Local 1717 (District 1) President Joe Gerrity was in the third row to hear what the president had to say. It was a once-in-a-lifetime opportunity for an IAM member who grew up just five blocks from where Joe Biden once called home in Scranton.
"Excellent! That's all I can say. It was such a great experience," said Gerrity. "Talking to him was like talking to someone from the old neighborhood."
And in this case, that was the truth.
"When President Biden's staff tried to get him to hurry up and move onto others waiting in line to shake his hand, he literally said to them 'He's from Scranton, he's my guy. I love talking to people from the old neighborhood.' I still can't believe the president of the United States took time to talk to a guy like me," explained Gerrity, who said he's still on cloud nine from that day. "He even took my mother's phone number, who still lives in the old neighborhood, and promised to give her a call if he had time. That was unbelievable." 
But it was the speech Biden gave that solidified Gerrity's belief that President Biden is good for workers and the labor movement. 
"He said the word union at least 20 times in his speech," said Gerrity. "That speaks volumes."
READ: Machinists Union Praises Biden Administration's Buy American Expansion
"The increases and enforcement changes to the Buy American program will really benefit U.S. workers," said IAM Eastern Territory General Vice President Brian Bryant. "This is something the IAM is constantly fighting for. If it's stamped Made in the USA, it should really mean, Made in the USA. We have the best workers who make the best products right here, so there's no reason to look anywhere else. You can be sure the Machinists Union will never stop fighting to get that number to 100 percent."
"My dad has been a union member for 55 years and I followed in his footsteps," said Gerrity. "It is so important that we have politicians like President Biden in our corner fighting for workers. A stronger Buy American plan is good for all workers. I can't thank my union enough for this opportunity that I know I will never forget."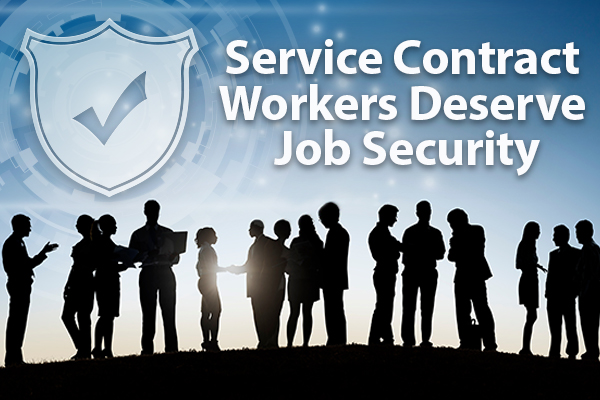 LABOR DEPARTMENT RULES IAM FLIGHT TRAINERS COVERED BY SERVICE CONTRACT ACT: The Labor Department's Wage and Hour division recently sided with the Machinists Union in its decision that U.S. Air Force contractors employed by FlightSafety Services Corporation (FSSC) are covered under the Service Contract Act (SCA). The federal agency's Aug. 2 ruling creates opportunities for the IAM to negotiate stronger labor contracts with Service Contract employers who have to abide by the guidelines that require contractors and subcontractors to pay area wages and benefits that are determined by the government.
The Labor Department's decision is a victory in the IAM's longstanding effort to get the designation for its Local 708 members who train pilots and maintain flight simulators for the new KC-46 at McConnell Air Force Base in Kansas. The U.S. Air Force contracts office failed to include this designation of SCA for its government contract, a decision that led to a years-long fight that included strikes and mounting support from elected officials. 
Service Contract workers are private-sector employees who work under federal contracts, primarily at military bases and other federal installations.
TAKE ACTION: Tell Your Senators and Representative to Help Protect SCA Jobs Today
Without an SCA designation, IAM members at McConnell AFB had been paid less than their counterparts working in the same industry. 
"This is a tremendous victory for this critical workforce that helps the men and women who support our nation's armed forces," said IAM International President Robert Martinez Jr. "This DOL ruling finally creates the opportunity for these workers to have the same protection that the Service Contract Act offers to the hundreds of other companies doing the same or similar work for the government. I want to thank our Legal and Aerospace departments for their hard work fighting for our membership."
The Air Force has until Oct. 1 to decide whether to appeal the DOL ruling. The IAM remains confident, however, that the agency's decision will ultimately be upheld.
The IAM also represents FlightSafety workers at Pease AFB in New Hampshire, Altus AFB in Oklahoma and Seymour Johnson AFB in North Carolina.
The DOL ruling also comes as the IAM is urging the Biden administration to reinstate protections in the SCA that were removed by former President Donald Trump.
The IAM represents nearly 40,000 Service Contract Workers in various industries, spread across more than 800 locations.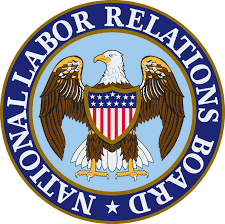 MACHINISTS UNION APPLAUDS NLRB CONFIRMATIONS: IAM International President Robert Martinez Jr. recently applauded the U.S. Senate confirmation of NLRB General Counsel Jennifer Abruzzo.  
"On behalf of the International Association of Machinists and Aerospace Workers, we applaud the U.S. Senate confirmation of NLRB General Counsel Abruzzo. Jennifer Abruzzo's NLRB experience will allow the agency to be a fair venue for enforcing laws governing the right to join a union. Ms. Abruzzo has spent her career protecting the rights of workers under the National Labor Relations Act. The IAM looks forward to witnessing the shift that will come with the confirmation of Ms. Abruzzo and other members of NLRB."
The IAM also praised the confirmations of Gwynne Wilcox and David Prouty to the NLRB.
"The Machinists Union couldn't be more pleased with the confirmation of Gwynne Wilcox to the National Labor Relations Board," said Martinez. "Gwynne has devoted her entire working life to making sure workers get justice in the workplace. This confirmation will strengthen the NLRB and ensure that corporations are held accountable. Gwynne's experience will ensure that union representation elections get back on pace and put in fair rules that create an even playing field. The IAM looks forward to working with Gwynne and the Biden-Harris administration to reverse changes from the previous administration that rolled back workers' rights.
"David's breadth of professional experiences make him particularly well suited for a position on the board," said Martinez. Throughout his long career as a labor attorney, Mr. Prouty has demonstrated his dedication to protecting the rights of workers in a wide range of fields. His commitment to the principles of workers' rights and advocacy, as well as his in-depth understanding of the National Labor Relations Act and organizing, make him particularly well-suited to be a member of the NLRB.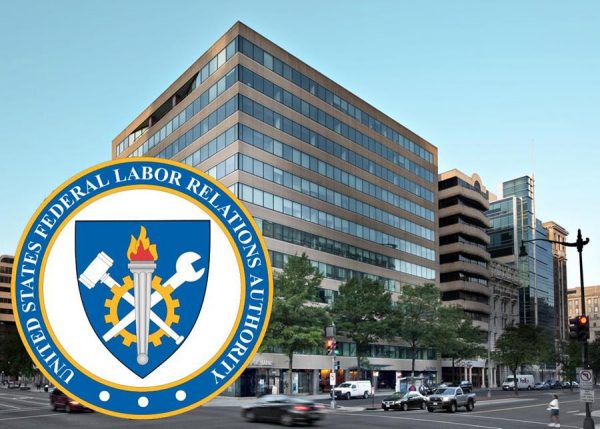 NFFE-IAM PRAISES NOMINATIONS OF SUSAN T. GRUNDMANN AND KURT RUMSFELD TO THE FEDERAL LABOR RELATIONS AUTHORITY: NFFE-IAM is supportive of the nominations of Susan T. Grundmann and Kurt Rumsfeld, along with Ernest DuBester, to the Federal Labor Relations Authority. These nominees form a highly qualified team of dedicated professionals who will properly execute the mission of the agency. NFFE-IAM is requesting the Senate vote for the confirmation of the nominees as quickly as possible.
Read the rest of the statement: NFFE Praises FLRA Nominations of Susan T. Grundmann and Kurt Rumsfeld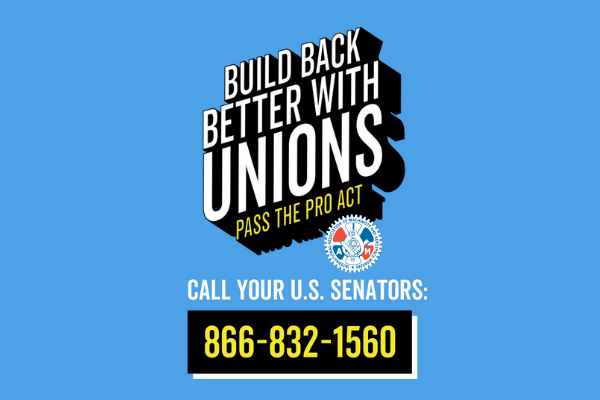 HELP PASS THE PRO ACT: The Protecting the Right to Organize (PRO) Act or H.B. 842 that passed the House in early March, has gained momentum in the Senate after IAM Members along with working families across the U.S. flooded Senate offices with calls to support the hardworking men and women of this country by supporting the PRO Act.
The PRO Act puts workers first and strengthens the rights of workers to join and participate in a labor union.   
The PRO Act will:
Create pathways for workers to form unions without fear of retribution
Repeal anti-worker "right-to-work" laws across the country
Hold corporations accountable by strengthening the National Labor Relations Board
Empower workers to exercise the freedom to organize and bargain
Ensure that workers can reach a first contract quickly after recognition
The Machinists Union has compiled a list of ways you can help pass the PRO Act: 
The PRO Act is the most comprehensive piece of labor legislation introduced since the Great Depression. At its core, it protects the rights of people who want to be part of a labor union and repeals laws that hurt workers.
The post Machinists Pay Tribute to Trumka – IAM District 751 Calls for Action-Machinists Support Action to Address Unruly Airline Passengers appeared first on IAMAW.