IAM DISTRICT 65, CASCADES CONTAINERBOARD WORKERS RALLY FOR FIRST CONTRACT TWO YEARS AFTER JOINING IAM: New Machinists Union members employed by Cascades Containerboard in Niagara Falls, NY, recently rallied to call for a first contract. The 115 workers voted to join the IAM more than two years ago, and the National Labor Relations Board certified that election in June 2019.
Workers were joined at the rally by IAM Eastern Territory General Vice President Jimmy Conigliaro Sr. and IAM Headquarters General Vice President Brian Bryant. Nearly a dozen other unions showed their support. U.S. Rep. Brian Higgins (D-NY), Niagara Falls Mayor Robert Restaino, Western New York Area Labor Federation, AFL-CIO President Peter DeJesus Jr. and other labor officials spoke and pledged support to the workers.
Higgins wrote a letter to Cascades Containerboard President and Chief Operating Officer Charles Malo, strongly encouraging the company to engage with the IAM at the bargaining table.
WATCH: Cascades Containerboard Workers Demand Contract
Working conditions at the facility were key issues for the employees. Cascades hired notorious union-busters Jackson-Lewis to thwart the campaign, only to hire another firm, the so-called Labor Relations Institute to stall negotiations.
"These negotiations are stagnant, and it's time for Cascades to seriously address them by returning to the table to negotiate," said District 65 Directing Business Representative Ron Warner. "These workers deserve a fair contract now."
WATCH: Niagara Falls union workers fighting for first contract Spectrum News Buffalo
Workers at Cascades have been standing together in their fight for a first contract, despite draconian efforts to divide the group. Workers have withstood a very aggressive anti-union campaign put on by the company that included permanent sub-contracting of their work, resulting in layoffs and drastically reducing the annual bonus by 20 percent.
"I understand they fired Jackson-Lewis," said Eastern Territory General Vice President Jimmy Conigliaro Sr. "I thought they were the worst SOBs around, this company found somebody even worse! We're not going to stand for it, this Executive Council is committed to fight side by side with our Brothers and Sisters at Cascades."
READ: Cascades workers call for contract, two years after union vote The Buffalo News
"This failure to get a first contract is why we need national legislation, the Protecting the Right to Organize Act, also known as the PRO Act," said IAM Headquarters General Vice President Brian Bryant. "The House of Representatives passed the PRO Act to give millions of American workers additional protections to organize and negotiate for better pay and benefits and a voice on the job."
TAKE ACTION: Tell your U.S. Senators to Support the Protecting the Right to Organize (PRO) Act
"I knew it would be close, but I knew we could get the numbers, because there was a changing of the guard," said Chief Steward Shawn Reed. "There were a lot of new guys, my son works here, and I knew they were ready for a change."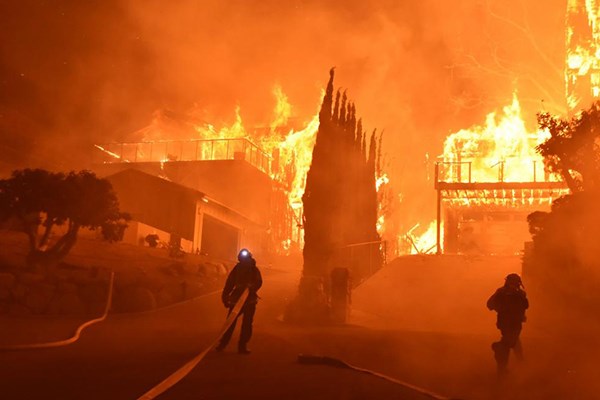 NFFE-IAM PROTECTS WILDLAND FIREFIGHTER BOOT STIPEND: U.S. Forest Service employees who work in the field and fight fires have enjoyed a stipend to cover a portion of the cost of their safety boots; the culmination of a years-long fight led by NFFE-IAM's Forest Service Council and its persistent leaders.
The benefit, articulated in Master Agreement, originally provided $300 every three years to subsidize the cost of the very expensive boots. In October 2020, the benefit increased to $500 and the three-year period for reimbursement was reset. 
"This is a real benefit for our members and one that wouldn't exist without the efforts of our union and NFFE's Forest Service Council," said NFFE-IAM National President Randy Erwin. "The union fought hard to establish this important benefit, and we'll fight just as hard to protect it."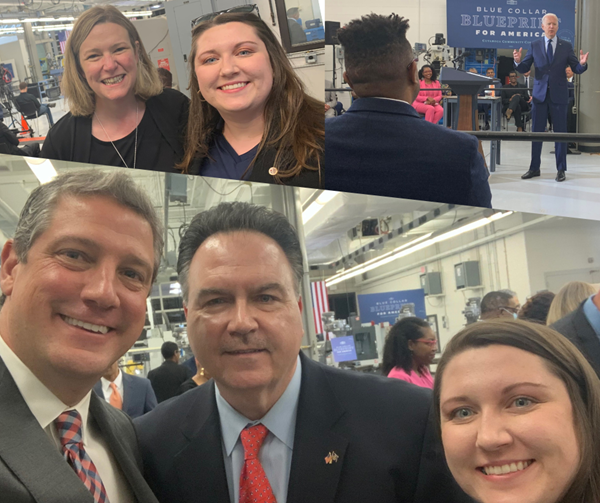 IAM DISTRICT 54 JOINS PRESIDENT BIDEN IN CLEVELAND TO PUSH FOR INFRASTRUCTURE, WORKER TRAINING INVESTMENTS: The IAM was on hand in Cleveland as President Biden brought his push for much-needed investments in worker training and infrastructure to Ohio. IAM District 54 President and Directing Business Representative T. Dean Wright Jr. and IAM District 54 Business Representative and Organizer Regina Wright joined the president for his speech at Cuyahoga Community College.
U.S. Rep. Tim Ryan (D-OH) and Dayton Mayor Nan Whaley also joined the president and the IAM in Cleveland.
President Biden delivered remarks on the country's economic situation and urged support for both the American Jobs Plan and American Families Plan. The IAM staunchly supports both plans, which would move toward ending corporate tax incentives that move work offshore, help brings jobs back home and reinvest in building good, middle-class, union jobs.
"It's beyond time that our country and leadership focuses on training the workforce," said T. Dean Wright Jr. "President Biden has developed a plan to train, retool and bring our blue collar workforce into the 21st century. We look forward to the day when trade schools in Cleveland and Ohio are just as funded and valued as other public education institutions."
Biden said it was time to stop giving breaks to large corporations and start supporting the U.S. workforce.
"A lot of companies have done extremely well in this crisis, and good for them," said Biden. "The simple fact is, though, corporate profits are the highest they've been in decades. And workers' pay is the lowest level it's been in 70 years."
 WATCH: Biden delivers remarks on the economy in Cleveland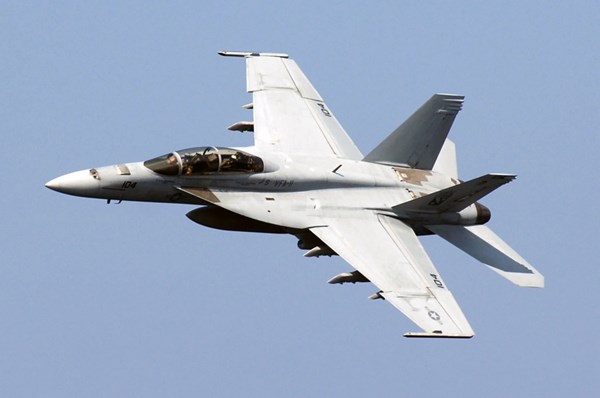 IAM DISTRICT 837 URGES MISSOURI CONGRESSIONAL DELEGATION SUPPORT FOR F/A-18E/F SUPER HORNET PROGRAM FUNDING: IAM District 837, which represents members at Boeing's Integrated Defense Systems unit in Saint Louis who build the F-18 Super Hornet and the F-15EX, is calling on the Missouri Congressional Delegation to support funding for 12 F/A-18E/F Super Hornet aircraft in the upcoming Fiscal Year 2022 budget
"Missouri is a proud contributor to the F/A-18 Super Hornet program and to our national defense," said IAM District 837 President/Directing Business Representative Tom Boelling. "At a time of uncertainty, the Super Hornet Program has helped keep our businesses alive, our workers employed, and our citizens safe. Funding for this critical program will help bring stability to our economies and build confidence in our continued safety."
"IAM District 837 members continue to go the extra mile to provide our nation with some of the finest defense products," said IAM Midwest Territory General Vice President Steve Galloway. "I am proud of this effort calling for increased funding of the Super Hornet for the Navy's aviation fleet. This funding will support good union jobs to keep the production line moving to help keep our country safe. The Missouri economy benefits considerably from the products made by some of the best workers in the country."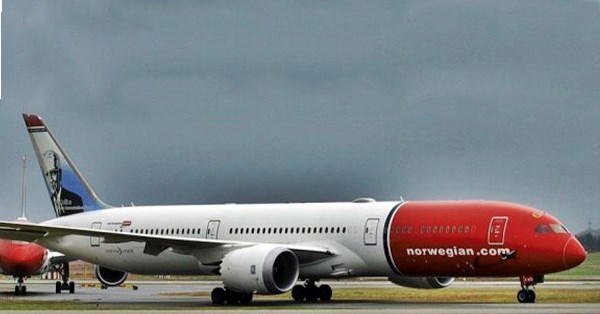 TELL CONGRESS TO PROTECT AIRLINE WORKERS AND CO-SPONSOR THE 'FAIR AND OPEN SKIES ACT: The Machinist Union is urging Congress to co-sponsor legislation that would protect air travelers and workers in the airline industry from foreign carriers undercutting wages and safety standards.
IAM International President Robert Martinez Jr sent a letter to all members of the House of Representatives urging them to co-sponsor the bi-partisan "Fair and Open Skies Act" recently introduced by the Chair of the House Committee on Transportation and Infrastructure Peter DeFazio (D-OR) and Chair of the Subcommittee on Aviation Rick Larsen (D-WA).
TAKE ACTION: Tell Your Representative to Co-Sponsor the 'Fair and Open Skies Act'
"We cannot let foreign carriers exploit the rules in place and undermine American workers and passengers," said Martinez. "This pro-worker legislation would give DOT the authority it so desperately needs to protect fair wages and working conditions for American aviation workers while enhancing safety for the flying public."
The "Fair and Open Skies Act" would prohibit the U.S. Department of Transportation (DOT) from issuing a new foreign air carrier permit for U.S. operations to any airline that exploits "flags of convenience" to avoid important employment, tax and safety regulations of its home country, or otherwise undermine labor standards.
Flag of convenience carriers are foreign air carriers established in a country other than the home country of its majority owner. This is done in order to avoid regulations of the home country, which undermines labor standards in the industry, and in the countries where the flag of convenience carrier operates.
"As travel begins to pick back up following the COVID-19 pandemic, this bipartisan bill will make sure that any foreign airlines looking to serve the United States play by the rules," said Chair DeFazio. "In the past, we have seen foreign airlines set up under a flag of convenience business model to exploit weaker labor laws outside their home countries in order to save money, undercut competition, and skirt important labor standards to get a leg up. By preventing such an airline from serving the U.S., this bipartisan bill protects American jobs from predatory and unfair competition."
TCU/IAM DEMANDS THAT UNION PACIFIC DO RIGHT BY ITS EMPLOYEES IN PALESTINE, TEXAS:  In a letter sent on behalf of its members in Palestine Texas, TCU/IAM urged U.S. Sens. Ted Cruz (R-TX) and John Cornyn (R-TX), and U.S. Rep. Lance Gooden (R-TX) to pressure Union Pacific to honor wage protections and to safeguard employees soon eligible for retirement.
Click here to read the letter.
The post Labor, Political Allies and District 65 Call for Contract at Cascades – Standing Up for Wildland Firefighters – District 54 Joins Biden in Cleveland appeared first on IAMAW.