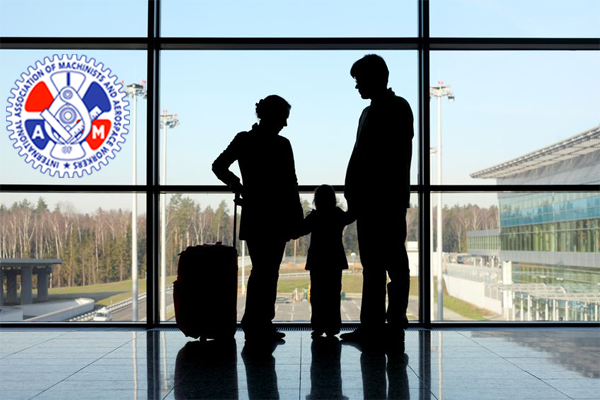 IAM HELPS SECURE CHILD TAX CREDIT EXPANSION FOR IAM WORKING FAMILIES: Child Tax Credit Expansion for Working FamiliesThe Machinists Union fought hard for the passage of the American Rescue Plan to bring relief to working families. One piece of relief coming soon for most IAM families will be the increased Child Tax Credit. The Child Tax Credit in the American Rescue Plan provides the largest Child Tax Credit ever and will make a big difference for many working Americans.
Starting on July 15, nearly all IAM members with children will receive an increased Child Tax Credit. The Child Tax Credit will deliver $300 per child each month for families with a shared income of $150,000 or $112,500 for a single-parent household. So, in its simplest terms, help is on the way for IAM working families.
"The IAM continues to push for legislation that benefits IAM members and their families," said IAM International President Robert Martinez Jr. "During the pandemic, it was workers and their families who made it possible for this country to survive and heal. The Child Tax Credit gives those hardworking families a benefit they truly deserve."
Click here for a Child Tax Credit fact sheet.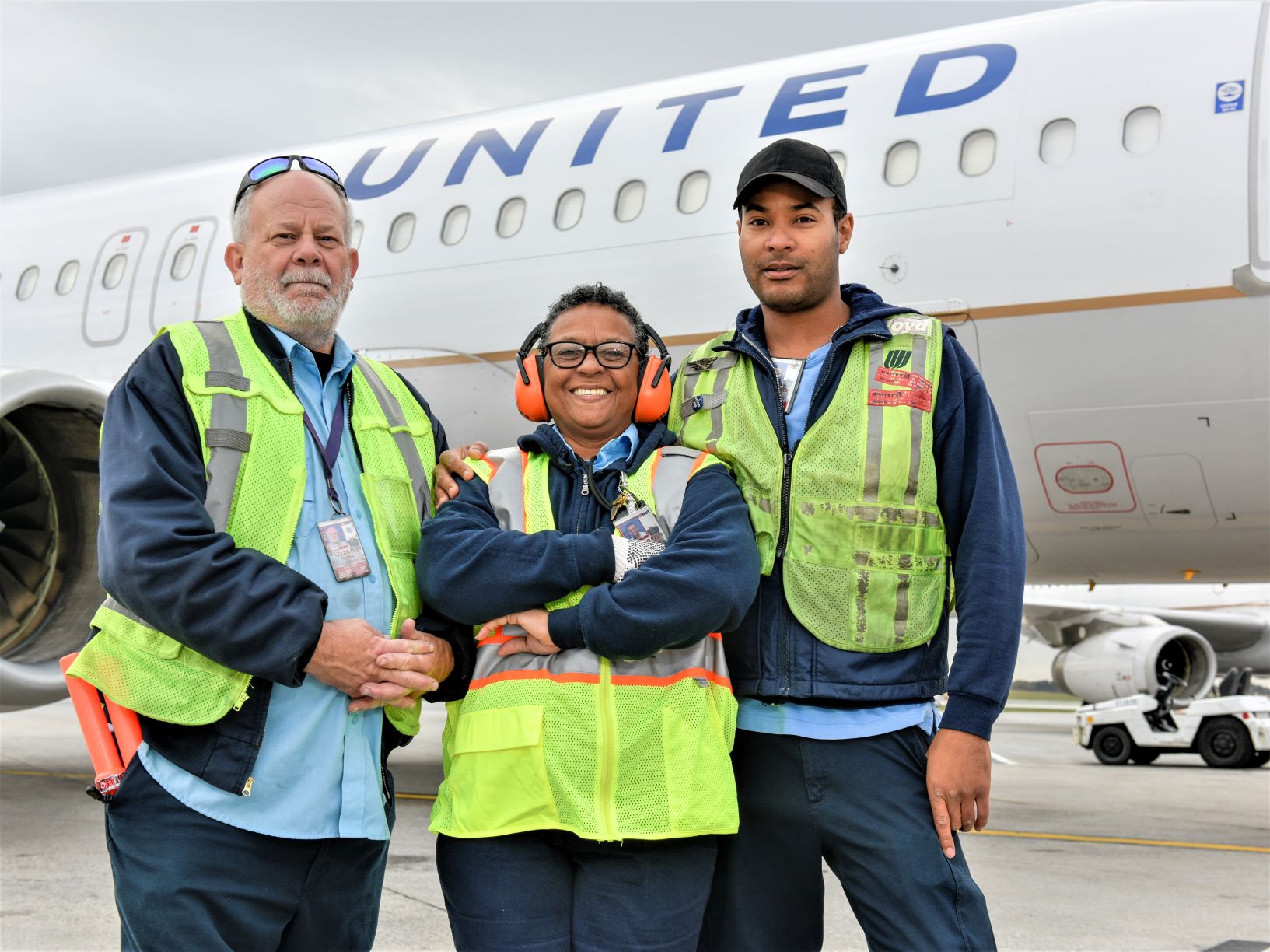 UNITED'S HISTORIC AIRCRAFT ORDER WILL CREATE THOUSANDS OF IAM JOBS IN AIRLINE, AEROSPACE INDUSTRIES: The Machinists Union applauds United Airlines' announcement that the carrier plans to hire over more than 25,000 airline workers and purchase 200 737 MAX airplanes by 2026. The "United Next" plan includes the addition of 270 total airplanes as well as plans to retrofit 100 percent of the remaining mainline, narrow-body fleet.
"The workers we represent at United and Boeing will benefit tremendously from this long-term investment," said IAM International President Robert Martinez Jr. "Our union looks forward to helping the airline and aerospace industries, especially after a difficult period with the global pandemic. The IAM led the fight on Capitol Hill for the airline Payroll Support Program (PSP) that kept tens of thousands of workers employed. The Machinists Union also fought for the Aviation Manufacturing Jobs Protection Act, legislation that is helping employers hire back aerospace workers as we recover from the pandemic. This announcement will preserve and create good union jobs that will impact communities across the world."
"It wasn't too long ago that hundreds of thousands of airline workers were facing layoffs and an unclear path," said Richard Johnsen, IAM Chief of Staff to the International President. "I commend United Airlines for investing in a vital industry for our country. As the largest airline union, the IAM will ensure that we fulfill the mission to empower every IAM member to serve the global marketplace with dignity and respect. The IAM is excited to welcome future United Airlines employees into our union. This investment is great news for all IAM members and their families."
"I am extremely proud of IAM District 141 members for their work throughout this pandemic," said IAM District 141 President and Directing General Chair Mike Klemm. "This announcement signals that our industry is heading in the right direction, thanks to the work of our members at United Airlines. IAM District 141 members will continue to work hard and be a leader for the rest of the industry."
"This order is positive news for IAM members in the Puget Sound region and beyond. This order will certainly support our membership locally with good-paying family wage jobs," said IAM District 751 President and Directing Business Representative Jon Holden. "We are proud to continue to build these aircraft for one of the world's leading airlines that also employs Machinists Union members across the country. It is a good sign that air travel is picking up and recovery from the pandemic has started." 
"This is a much-needed boost for our Brothers and Sisters in the Puget Sound and the entire aerospace industry," said IAM Western Territory General Vice President Gary R. Allen. "The airline and aerospace industries play a huge role in our global economy, and this is especially true in the economy in the Western United States. We are very proud of the IAM members in the Puget Sound, the best aerospace workers in the world."
"I applaud this announcement after such a difficult year for the aerospace industry," said IAM Aerospace General Vice President Mark Blondin. "Our members build the best products globally, and this investment is a signal that we are headed in the right direction. We hope that this type of investment will have a ripple effect in supply chains throughout our nation."
The "United Next" plan is expected to create 25,000 well-paying, union jobs at United, significantly lower carbon emissions per seat and contribute an estimated $50 billion annually towards the U.S. economy by 2026. Combined with the airline's current order book, United expects to add more than 500 new aircraft including about one new plane every three days in 2023 alone.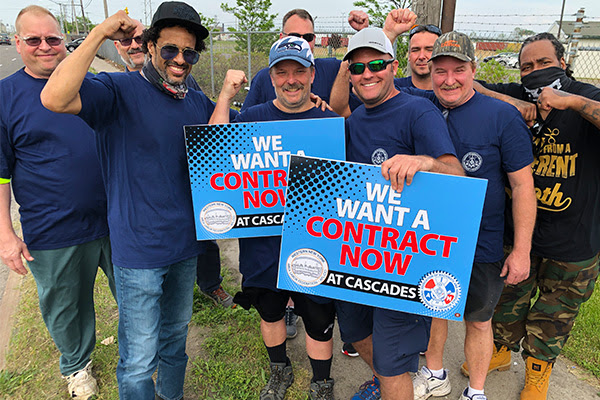 LEADER SCHUMER, SEN. GILLIBRAND PUSH FOR A FIRST CONTRACT FOR MACHINISTS UNION AT CASCADES CONTAINERBOARD: Machinists Union members working at Cascades Containerboard in Niagara Falls, NY got the backing of two political heavy-hitters this week when U.S. Senate Majority Leader Chuck Schumer (D-NY) and U.S. Sen. Kirsten Gillibrand (D-NY) called on Canada-based Cascades, Inc. to negotiate in good faith and reach a first contract with the union negotiating committee.
The group of more than 100 workers voted to join the Machinists Union in April 2019, and have been attempting to bargain for a fair contract for more than two years.
"We write to urge Cascades management to return to the table and negotiate in good faith with representatives from the International Association of Machinists and Aerospace Workers (IAM) on a new labor contract at the Niagara Falls containerboard plant," write Schumer and Gillibrand. "We have long believed that our economy functions most effectively and fairly when there is a good faith bargaining and contracts between labor and management."
Read the entire letter from Schumer and Gillibrand to Cascades, Inc. President and CEO Mario Plourde.
Members recently rallied to call for a first contract. It has now been more than two years since the National Labor Relations Board certified Cascades workers' vote to join the IAM in June 2019. It is highly unusual for companies to delay bargaining to this extent after workers organize with the IAM.
"I appreciate Leader Schumer and Senator Gillibrand stepping up to shine a light on the unfair treatment of our members from Cascades Containerboard management," said IAM District 65 Directing Business Representative Ron Warner. "Our members work hard to make this company profitable, and all they want in return is a voice on the job. It feels good to see our senators fighting to make life better for our members at Cascades. The Machinists Union won't stop until we get a first contract."  
READ: Gillibrand, Schumer call on Cascades, Inc. to negotiate with union Spectrum News 1 Buffalo
U.S. Rep. Brian Higgins (D-NY) also wrote to Cascades President Charles Malo, urging the company to "negotiate in good faith to reach an agreement expeditiously."
Working conditions at the facility are key issues for Cascades employees. Cascades hired a notorious union-busting law firm to thwart the organizing campaign and hired another firm after the campaign to stall negotiations.
"The Machinists Union will continue to mobilize to help our brothers and sisters at Cascades secure a first contract," said IAM Eastern Territory General Vice President Brian Bryant. "It is shameful that after voting to join the IAM over two years ago, our members still can't get a first contract. The National Labor Relations Act is broken, and this is why the IAM is urging the United States Senate to pass the Protecting the Right to Organize Act. If the PRO Act were in place today, our members would have the ability to settle impasses like the current one at Cascades. Our members at Cascades deserve fair treatment and basic respect and dignity at work."
IAM Canadian General Vice President David Chartrand recently joined the chorus of labor and political leaders urging the Québec-based manufacturer to work toward a contract with its New York state workers.
READ: Showdown between Cascades and New York State workers  Journal de Montreal
"It's frustrating and embarrassing to see a Québec flagship act in this way, especially since Québecers are shareholders in the company through the Caisse de dépôt et placement du Québec," Chartrand said. "All workers deserve to be treated with respect and fairness, whether they are from Québec, New York State or elsewhere. We stand in solidarity with our sisters and brothers and support them in their struggle."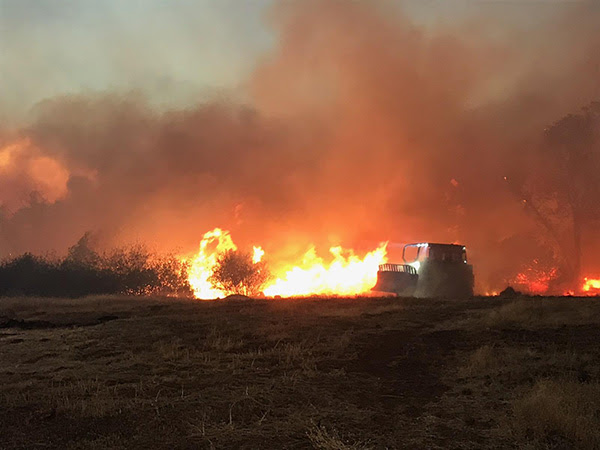 NFFE-IAM RECOMMENDS IMPROVEMENTS TO FEDERAL FIREFIGHTING TO THE WHITE HOUSE AND BIDEN CABINET: NFFE-IAM sent a letter to President Biden regarding the federal wildland firefighting workforce recommending changes aimed at stabilizing and expanding the program.  In addition to a 50% increase in base pay for federal firefighters, NFFE-IAM recommended hiring at least 10,000 more firefighters over the next decade, and allotting more resources for a better work-life balance including staggered work schedules and better mental health services. 
READ: Union Urges Further Action to Improve Firefighter Pay Government Executive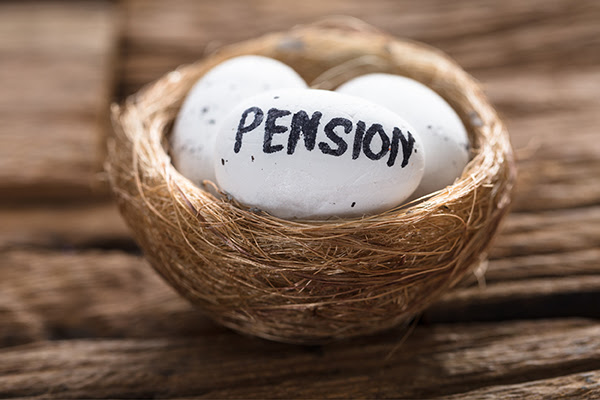 RETIRED MACHINIST APPRECIATES IAM FIGHT FOR RETIREMENT SECURITY: When Jerry McCoy heard about the American Rescue Plan in March, he didn't know that much about it. In 2011, he retired as a machinist from the Y-12 National Security Complex facility in Oak Ridge, Tennessee and has been living off the company pension. Consolidated Nuclear Security, LLC operates the site.
"I'm retired during a pandemic. If they ever said, 'We don't have enough money in your pension plan,' it would have been devastating," said McCoy, a member of IAM Local 480.  
President Biden signed the Butch Lewis Emergency Pension Relief Act into law on March 11, as part of the American Rescue Plan. The law preserves and restores pensions for more than one million retirees and workers in about 200 severely underfunded multi-employer pension plans. McCoy was thankful his pension didn't fit into that category. However, he knew the dire consequences looming for all U.S. pensioners without the provisions of the "Butch Lewis Act."  It protected healthy plans and strengthened the overall pension system, something the IAM lobbied for heavily.
McCoy was happy to see the legislation because he considers his pension his lifeline. "It's very important because we depend on that for our livelihood, my wife and I." He said it was reassuring to know that he would someday retire with a pension, even when he was younger. "That was the reason you stayed there," he said. "That was the reason you wanted to be there."
McCoy started working for what was then Union Carbide in 1970 and 41 years later, hopes young workers realize the benefits of defined benefit pension plans and the importance of preserving them. "New employees come in and don't have a pension. They have a 401K. You might as well go to Vegas," he said.
Fortunate enough to retire at 60, McCoy is thankful his wife has a pension and their daughter was able to receive a union scholarship from the AFL-CIO and go on to work for a Canadian company that provides a pension. 
It's all about priorities and getting a fair return on our work. "Giving bonuses sounds good, but I'd rather have a raise," he said. And a pension.
District 66 MEMBER MEETS PRESIDENT BIDEN IN WISCONSIN: IAM District Lodge 66 member Mike Davis recently got the chance of a lifetime to meet President Biden. After the president gave a speech pushing his $1 trillion infrastructure plan at the La Crosse Municipal Transit Utility in Wisconsin, Davis was one of a select few union leaders chosen to meet the president backstage.
"This is the first time I have ever met any president so the whole experience was very exciting to see and take in," said Davis, a Local 1115 member who works at Crown Cork and Seal and is also President of the Western Wisconsin AFL-CIO. "I was able to be backstage and up close to the president so it made for an even more thrilling day. I couldn't have been more proud to represent the IAM and our local unions." 
"Mike was a very deserving member to be selected with the honor of representing the IAM at President Biden's visit to La Crosse," said IAM District 66 Directing Business Representative Jana Kirch. "He is not only a respected leader in our union, but also fights for the rights of all workers in Wisconsin."
President Biden told Wisconsinites the proposed infrastructure plan will create millions of good paying jobs. The president was joined by U.S. Rep. Ron Kind (D-WI), U.S. Sen. Tammy Baldwin (D-WI) and Gov. Tony Evers (D) in talking about the ways the package would also improve Wisconsin infrastructure.
"It's refreshing to see and experience a White House now focused on unions and working Americans," said IAM Midwest Territory General Vice President Steve Galloway. "In just his first 150 days, President Biden and his administration have already spearheaded a number of legislative actions, appointments and bills the Machinists Union have been fighting for, for so many years."
"President Biden thanked me for all our union has done and said he truly appreciated our support," added Davis. "It's a moment I will cherish, honor and never forget."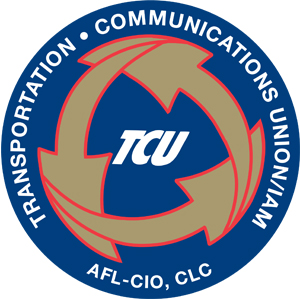 GAO ACCEPTS REQUEST TO STUDY PSR: GAO accepts request to study PSR – In a win for freight railroad workers, the Government Accountability Office (GAO) has accepted a request to study Precision Scheduled Railroading (PSR) from Transportation & Infrastructure Committee Chairman Peter DeFazio (D-OR) and Railroads Subcommittee Chairman Donald Payne (D-NJ). In May, the two Democrats formally requested the GAO look into PSR with an eye towards safety impacts from workforce reductions, the downsizing, and closure of yards and repair facilities, inspections, and other issues.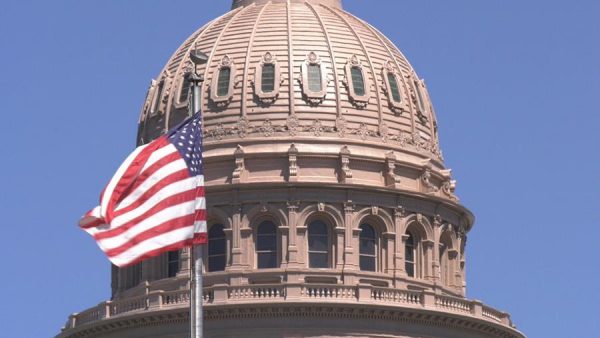 IAM, ALLIES FIGHTING AGAINST DANGEROUS VOTER SUPPRESSION EFFORT IN TEXAS: Months after progressive state lawmakers in Texas staged a mass walkout to protest voter suppression legislation introduced by radical-right politicians, the labor movement, including the Machinists Union and the Texas AFL-CIO, are mobilizing around the state in a bid to beat back another conservative plot to pass the controversial bill.
"Voting and freedom are sacred pillars of our republic and they're crucial to upholding democracy," said IAM International President Robert Martinez Jr. "Any attempt to thwart those rights must be strongly opposed by the hard working middle-class families of Texas. If it's voting rights today, then it will be anti-worker laws tomorrow."
The legislation, now known during a special legislative session as Senate Bill 1, would end drive-through and 24-hour voting, as well as add draconian voter ID requirements. The bill would give more rein to partisan poll watchers and allow officials to scour state records in an elaborate and unjustified search for non-citizen voters.
But Machinists Union members in Texas and nationally have pledged to work with the state's AFL-CIO to educate union households, lobby lawmakers and build political momentum aimed at stopping SB 1.
"The fight against voter suppression and to preserve our democracy is a union fight, and we are proud to stand in solidarity with the IAM on this issue," said Texas AFL-CIO President Rick Levy. "The commitment of President Martinez and the IAM to do whatever it takes to protect our right to vote makes the entire labor movement proud. As we organize our opposition, IAM leadership is making a real difference."
Texas AFL-CIO President Rick Levy issued a statement in response to reports that House Democrats are seeking to deny a quorum for considering voter suppression and other legislation:
"The Texas AFL-CIO proudly stands with Texas House Democrats for risking arrest to defend our voting rights and taking the fight to our nation's capital. We stand squarely with the legislators who are standing with and fighting for working families." 
Read the rest of Texas AFL-CIO's statement here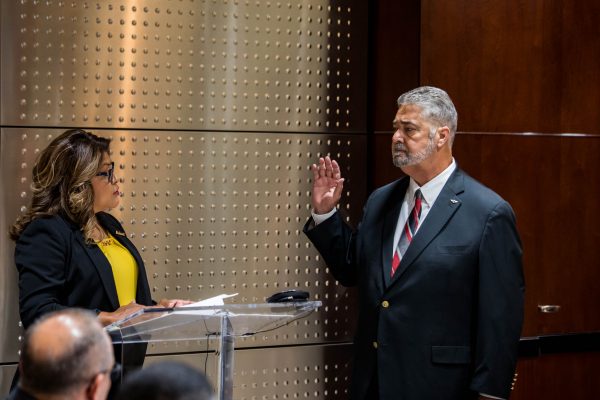 MACHINISTS UNION EXECUTIVE COUNCIL, CONSTITUTIONAL OFFICERS SWEAR IN FOR A NEW TERM, LOOK TOWARD BRIGHT FUTURE: Members of the IAM Executive Council and other IAM Constitutional Officers are energized and looking toward the future as they raised their right hands and recited the oath of office today. With a focus on growing the IAM in members and bargaining power they begin a new four-year term leading the Machinists Union, as elected by the membership.
"There is nothing—no pandemic, no crisis, no politician, no employer—that will stop this union from fighting for what is just and what is right," said IAM International President Robert Martinez Jr. "It's an exciting time to be a Fighting Machinist, Sisters and Brothers. This union is on the rise, and each of us are blessed to be leading the way. I would also like to recognize every Machinists Union family who has been affected by COVID-19. Our union has made it through these difficult times and we are rebounding because of our essential members in the transportation, defense, healthcare and other industries. We are grateful to have them working on the front lines during the pandemic and sacrificing their own well-being for the benefit of others."
"It is truly an honor to be re-elected to serve the Machinists Union membership," said IAM General Secretary-Treasurer Dora Cervantes. "I'm humbled by the support and trust our members have shown this leadership team over the years. This Executive Council will continue to work tirelessly on our membership's behalf."
AFL-CIO Secretary-Treasurer Liz Shuler delivered remarks, wishing the best for all the officers swearing in. The ceremony was held via video conferencing due to COVID-19 travel restrictions.
"Thank you International President Martinez, General Secretary-Treasurer Cervantes and the entire IAM leadership team," said Shuler. "When COVID-19 hit, the Machinists did not stop. You stepped up for your members, you kept leading the way in organizing and you raised the standards for all working people. The entire labor movement is inspired by your solidarity, strength and character."
The swearing in also marks an end of the career of retiring Eastern Territory General Vice President Jimmy Conigliaro Sr. and Canadian General Vice President Stan Pickthall.
"Congratulations to Brothers Jimmy and Stan on their well-deserved retirements," said Martinez. "Their leadership, friendship and drive to help working people will be missed on a daily basis. On behalf of the Executive Council and the entire IAM, I thank them for their dedication to our great union and wish them and their families a long and healthy retirement."
Along with the swearing in of the IAM Executive Council, members of the IAM Law Committee, IAM Delegates to the AFL-CIO, and the IAM Delegate to the Canadian Labour Congress were sworn in.
International President: Robert Martinez Jr.
General Secretary-Treasurer: Dora Cervantes
General Vice Presidents: Gary R. Allen, Sito Pantoja, Mark Blondin, Rickey Wallace, Brian Bryant, Steve Galloway and David Chartrand
Committee on Law: James Beno, Dave Weaver, T. Dean Wright Jr. and Tania Canniff
Delegates to AFL-CIO: E. Michael Vartabedian, Richard Jackson and Sharon Sugiyama
Delegate to Canadian Labour Congress: Kim Valliere
All were elected to serve a four-year term, expiring June 30, 2025, in accordance with Article III, Section 5 of the IAM Constitution.
The post Child Tax Credit Expansion Victory for IAM Working Families –United's Historic Aircraft Order Will Create Thousands of IAM Jobs in Airline, Aerospace Industries — Demand is Strong for a First Contract for Machinists Union at Cascades appeared first on IAMAW.